On May 1, City & State published their 2023 list of the Power Asian 100 in New York. As stated in the article:
City & State's Power of Diversity: Asian 100 list features these elected officials and also highlights other power brokers who are managing government agencies, running businesses, advocating for policy changes – and ensuring Asian Americans have a voice at the table.
AABANY is pleased to announce that our Immediate Past President William Ng has been named one of City & State's Power Asian 100 at 56 on the list.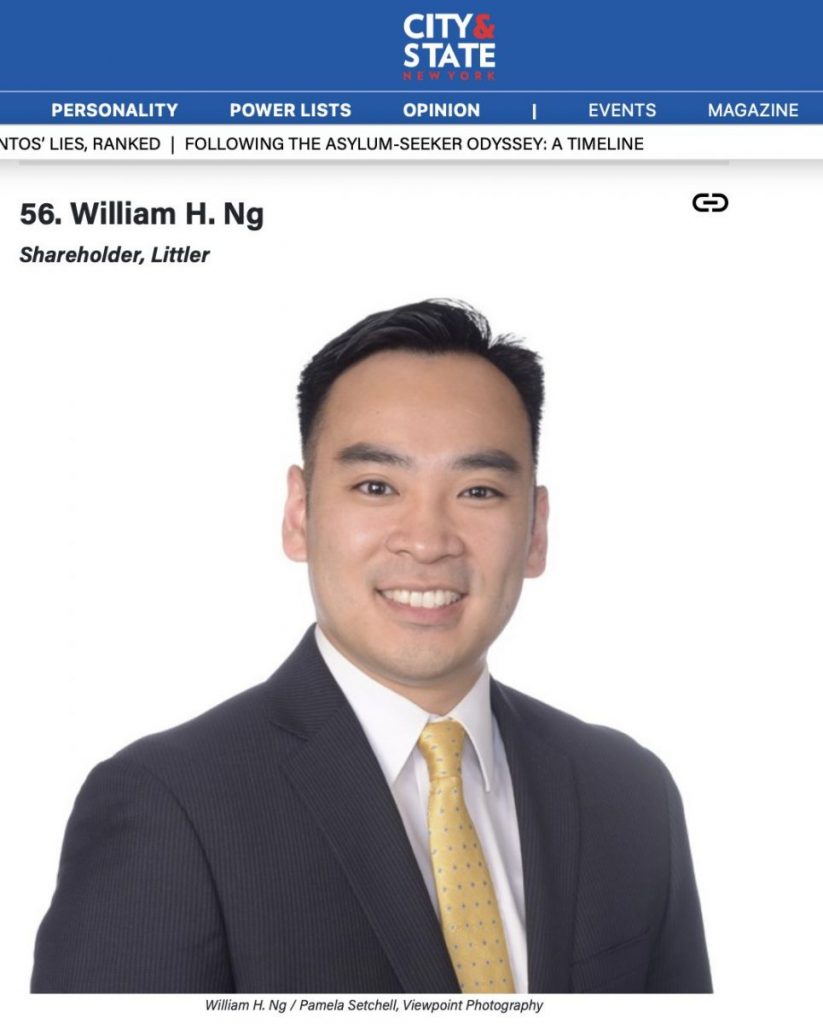 Please join AABANY in congratulating William Ng along with the following attorneys connected to AABANY (numbers in parentheses indicate ranking):
Sandra Ung, New York City Council Member and Former AABANY Treasurer. (10)
Kevin Kim, Commissioner, New York City Department of Small Business Services. Honored by AABANY with the Norman Lau Kee Trailblazer Award at the 2022 Fall Conference, and past AABANY Board Officer. (10)
Frank Wu, Queens College's first President of Asian descent. AABANY honored Frank Wu with the AABANY Impact Award at our 2021 Virtual Gala: Uniting for Justice and Equity. (22)
Faiza Saeed, Presiding Partner at Cravath, Swaine & Moore, a Sponsor of AABANY for many years. (40)
Asim Rehman, Commissioner and Chief Administrative Law Judge, New York City Office of Administrative Trials and Hearings. Longtime AABANY Member. (46)
Preet Bharara, Partner, WilmerHale. AABANY honored Preet Bharara, when he was the United States Attorney of the Southern District of New York, at the Annual Dinner in 2015. (48)
Anna Mercado Clark, Partner, Phillips Lytle. Previously served as the Development Director of AABANY during FY2023 and currently President-elect of NAPABA. (78)
Tai Park, Partner, Quinn Emanuel Urquhart & Sullivan, a long-time sponsor of AABANY. (91)
Vincent Chang, Partner, Litigation and Dispute Resolution Group, Wollmuth Maher & Deutsch. First Asian American President of the New York County Lawyers Association and past AABANY President 2007. (96)
AABANY congratulates all the accomplished individuals who appear in City & State's 2023 Power Asian 100 List.
To read the full article, please click here.