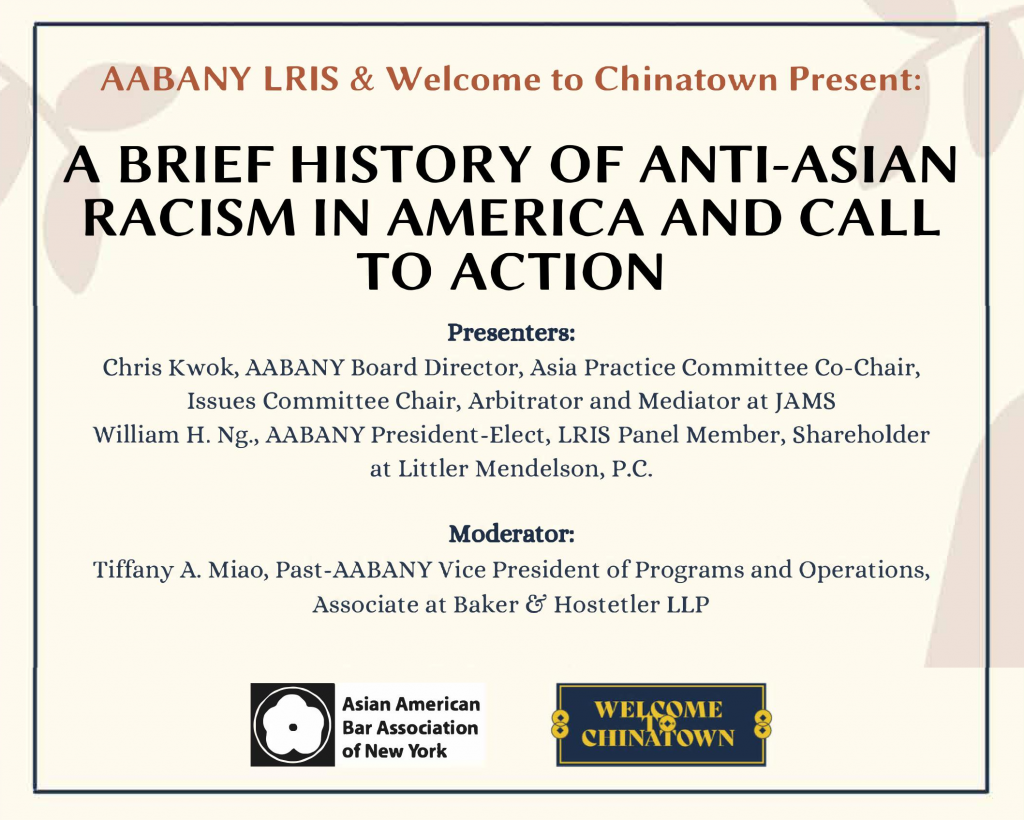 On May 21, in observance of Asian American and Pacific Islander (AAPI) Heritage Month, AABANY's Legal Referral and Information Service (LRIS) hosted an event titled "A Brief History of Anti-Asian Racism in America and Call to Action" to raise funds for Welcome to Chinatown's Longevity Fund. Welcome to Chinatown is a grassroots initiative working to preserve New York City's Chinatown by supporting small businesses and amplifying community voices. In 2020, they launched The Longevity Fund, a small business relief program, to support small businesses where cultural and socioeconomic barriers have prevented them from applying for assistance programs.
The first part of the fundraising event consisted of a presentation from Chris Kwok, AABANY Board Director, Asia Practice Committee Co-Chair, and Issues Committee Chair, on the history of anti-Asian racism in America. He provided an overview of the history of sinophobia and anti-Asian violence in the United States, highlighting the passage of laws including the Naturalization Act of 1790, the Page Act of 1875, and the Chinese Exclusion Act of 1882. Chris also shared the common themes of how Asian Americans have been perceived throughout history and are still seen today as "forever foreign."
The presentation was followed by an informal Q&A session between Moderator Tiffany Miao, and William Ng, AABANY President-Elect and LRIS Panel Member, on the importance of AAPI representation in the legal profession and how AAPI lawyers can play a role in preserving Asian cultures and communities for future generations. After listening to Chris' presentation, William spoke about how the history of sinophobia in the U.S. was never taught in school and how it is important to push towards adding it to school curriculums. Chris added that it's critical for individuals to understand how race works with Asian Americans—although there's similarity with how African Americans and Jews experience race, there are still differences and nuances. As for how AAPI lawyers can support AAPI communities, William stated, "While it's a good career opportunity to do meaningful work, this time in particular, Asian Americans have an opportunity to do more, push certain initiatives." In addition to representing Asian American clients at work, AAPI lawyers can donate to organizations such as Welcome to Chinatown, and join AABANY's LRIS to provide legal assistance to the Asian American community.
To join AABANY's LRIS, please email joinlris@aabany.org for an application. To learn more about Welcome to Chinatown, please visit welcometochinatown.com and check out their Instagram account @welcome.to.chinatown
At the conclusion of the fundraiser, AABANY was able to raise $2000 for The Longevity Fund. Thank you to everyone who joined us for the event, and thanks especially to all the donors for their support.