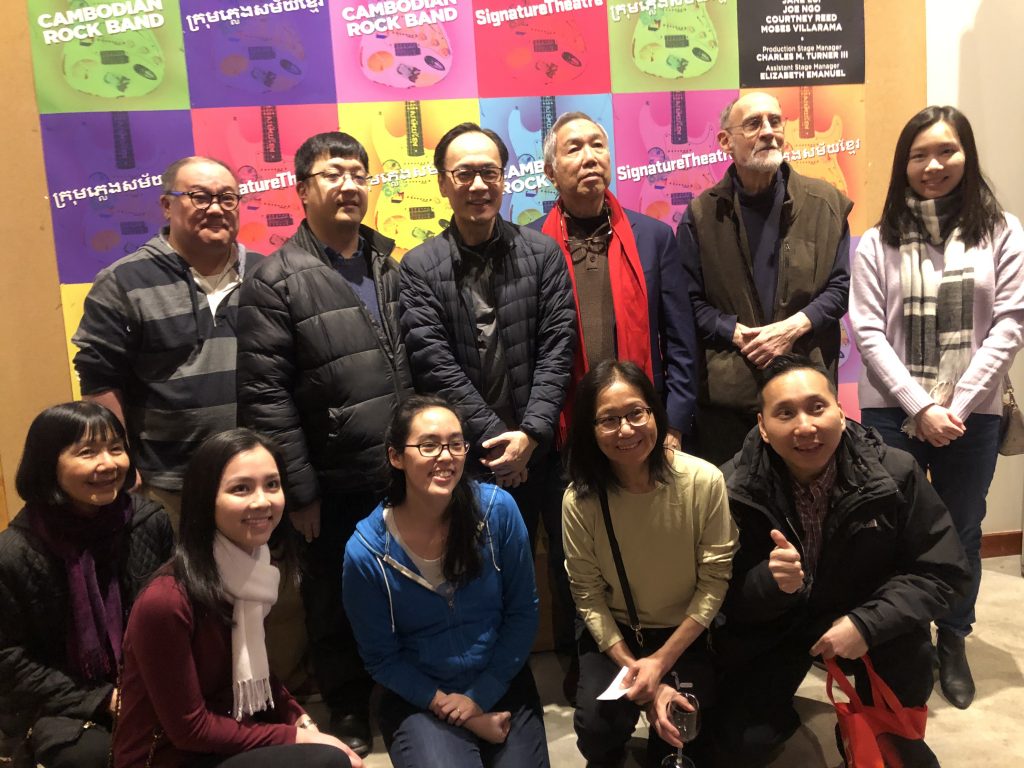 On Sunday, February 16, a group of AABANY members and friends, including AABANY Co-Founder Rocky Chin, Executive Director Yang Chen, Board Director Chris Kwok, Director of Technology Francis Chin, GSPI Committee Co-Chair Kevin Hsi, and Women's Committee Co-Chair Yan Sin, went to see "Cambodian Rock Band." The play is written by Lauren Yee, currently in residence at Signature Theater off-Broadway, steps away from the bright lights of Times Square. The all-Asian cast features six talented performers who play multiple roles, including as band members of a fictional band, the Cyclos. While the band is made up, the music they play is not, featuring Cambodian pop songs from the '60s and '70s. The story flashes back and forth between Cambodia in the 1970s, when the Khmer Rouge came to power, and modern day Cambodia, as a father and daughter come to grips with the legacy of a country torn apart by trauma, tragedy and war crimes.
Before the play started, the AABANY group got to meet and chat with Lauren Yee, who was busily greeting audience members as they gathered in the spacious lobby on the second floor, right outside the theater. She handed out "Cambodian Rock Band" buttons and happily spoke with us about her play and its journey to the New York stage. The play itself was gripping and powerful, and the talented cast not only sang and performed numerous songs, many in Cambodian, they also told a touching and compelling story about the aftermath of the Khmer Rouge's reign in Cambodia. After the show, our group also got to meet members of the cast, who engaged with audience members that were hanging out in the lobby after the show, talking to them about the play and also taking photos with them.
"Cambodian Rock Band" was a worthwhile and moving theatrical experience, and we highly recommend that you go and see it. The play opened on February 4 and runs through March 15. Catch it before it closes! More details here.