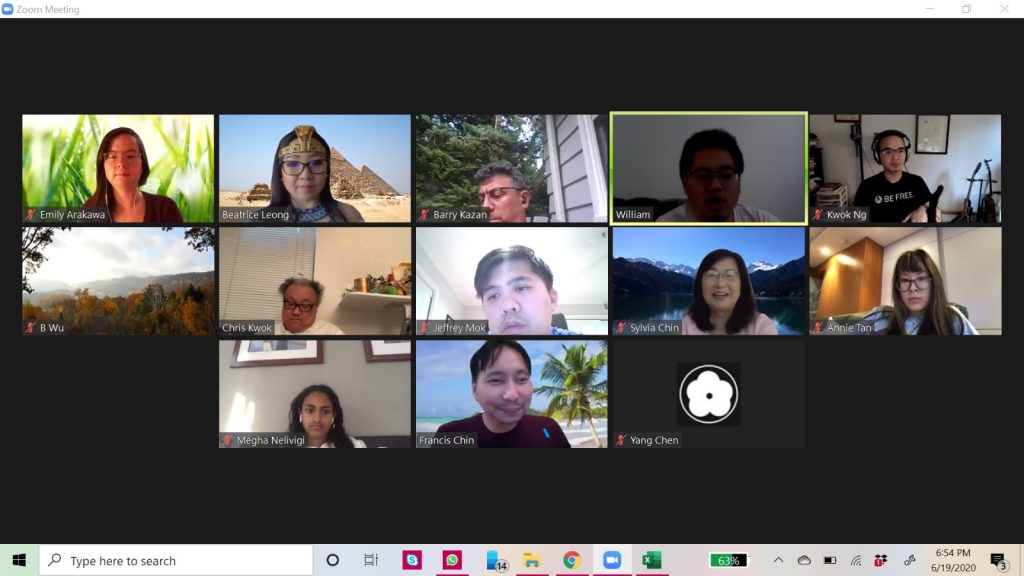 On June 19, 2020, the Membership Committee hosted their weekly Zoom Membership Mixer, with 15 participants in attendance.  The icebreaker question posed to the participants was: "Which historical figure, living or deceased, would you most like to meet?" Members wanted to meet Cleopatra, Yuri Kochiyama, Shakespeare, Jane Austen, Robin Williams, Michelangelo, Ruth Bader Ginsburg, Isaac Asimov, Harriet Tubman, and Ben Franklin.

The Membership Committee previously hosted Monthly Mixers at bars and various locations, but due to COVID, we have moved online to offer members a weekly outlet to share their feelings, see old friends, and make new connections. Mixers start at 6:30pm on Friday and the main event ends at 7:30pm but feel free to stay on after 7:30pm for smaller breakout groups.

Membership Committee will continue to host weekly Zoom mixers until it is safe to gather together again in person. 

This week, after the main mixer, a breakout group of 4 members stayed behind to play "Cards Against Humanity." We will feature this game in future Mixers!

We are giving away door prizes in some weeks. In order to win, you must be a member and must RSVP on the calendar entry at aabany.org to get a raffle number. Non-members can join the Zoom mixer but won't be eligible to win a prize. 

Mixers are not recorded, and are LIVE, so don't miss out. Join us this week June 26, as we host our friends from SABANY. Register by June 25 at https://www.aabany.org/events/event_details.asp?legacy=1&id=1366641.