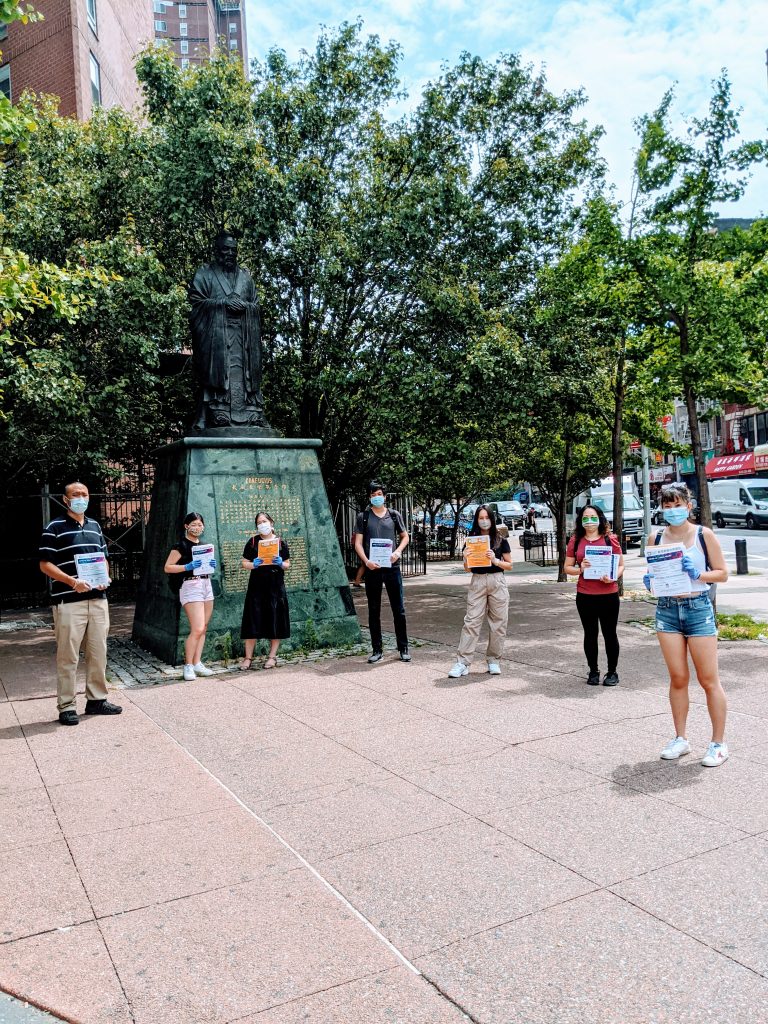 On Friday, July 3, 2020, the Pro Bono and Community Service Committee of the Asian American Bar Association of New York (AABANY) launched a flyering campaign to promote the new Remote Pro Bono Legal Clinic in Chinatown and Koreatown. The event was organized by William Lee, Associate at Alston & Bird and an active member of the Pro Bono Committee. The goal of the campaign was to ensure that Asian American small businesses had access to the Pro Bono Clinic's various resources during this time of great need. Many law students from local APALSAs, including Fordham, Cardozo, and Columbia, volunteered at the start of the 4th of July holiday weekend to assist in distributing the flyers to local businesses.
The Chinatown volunteers were led by Dianna Lam and May Wong, frequent volunteers for the Pro Bono Clinic, and those in Koreatown were led by Will Lee. Both campaigns were very successful, and Dianna Lam and May Wong were even interviewed for the "Around the Boroughs" segment of Spectrum News NY1. Dianna and May emphasized the importance of the Remote Pro Bono Legal Clinic, especially for smaller businesses impacted by COVID-19. Both groups ended the day with a volunteer appreciation lunch at the West New Malaysian Restaurant on Bowery Street. The group was able to sit at tables set up outside the restaurant, spaced out so that they could maintain a social distance.
We thank the Pro Bono Committee members, including Will Lee, Dianna Lam, and May Wong, for their leadership during this campaign. We also thank the students and volunteers who took the time to help the Remote Clinic reach more individuals and businesses in need of legal information. The Pro Bono Committee will be organizing similar campaigns in Flushing, Queens and Bay Ridge, so if you are interested in volunteering, please add your name to this document. Read AABANY's press release about the Remote Pro Bono Clinic here. For more information on the Pro Bono Committee, see https://www.aabany.org/page/117. To find out more about AABANY's pro bono resources, visit aabany.org/probono.