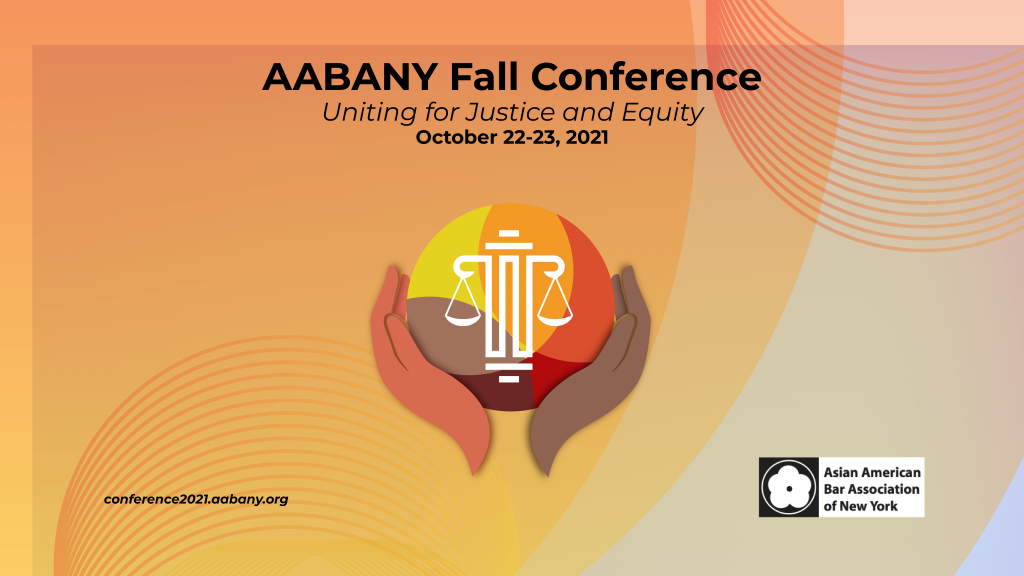 AABANY's twelfth annual Fall Conference, with the theme "Uniting for Justice and Equity," took place on Oct. 22 and 23. We started on Friday afternoon, Oct. 22, with the GC Roundtable: The Evolving Role of General Counsels in Promoting Justice & DE&I in the Workplace, which ran concurrently with Pro Bono Crisis Lawyering: Challenges and Lessons Learned. After these two programs concluded, we held our Reception and Norman Lau Kee Trailblazer Award Presentation in person at King & Spalding, in hybrid format, with some attendees joining in person and others online via Remo. Those in attendance at King & Spalding got to meet and mingle in person with AABANY Board members and Committee Chairs, as well as the Trailblazer Award honoree Glenn Lau-Kee. To learn more about Glenn Lau-Kee and the Trailblazer Award, please see: https://conference2021.aabany.org/trailblazer/
Saturday kicked off with two concurrent programs, Fighting for Housing and Community Justice: The Role of Lawyers in the Movement and Measuring, Reporting and Improving Outside Counsel Diversity, followed by two more concurrent programs, Virtual Chat With Hon. Stacey L. Meisel, U.S. Bankruptcy Judge, D.N.J. and Achieving Justice and Equity Through Litigation. The Plenary Session, The Rising Tide of Anti-Asian Hate & Violence: Where Are We Now?, closed the Fall Conference.
We thank all the Program Chairs, Moderators, and Speakers for putting on important CLE programs on timely subjects that strongly reflected the Conference theme. We also thank our sponsors:
Gold
Broadridge
White & Case LLP
Bronze
New York State Bar Association Business Law Section
Finally, we thank everyone who joined us Friday afternoon and evening, and then again on Saturday morning into the early afternoon. We are processing your CLE certificates now and you should be receiving them soon. If you have any questions about CLE credits, please contact cle@aabany.org. If you have any questions or comments about the Conference, please contact fall.conference@aabany.org.