On March 22, 2022, AABANY member Karen King argued before the U.S. Supreme Court in Golan v. Saada (20-1034), a case involving the interpretation of the Hague Convention on the Civil Aspects of Child Abduction. Karen is a Partner at Morvillo Abramowitz Grand Iason & Anello, Co-Chair of AABANY's Pro Bono and Community Service Committee, and an active member of AABANY's Anti-Asian Violence Task Force. She sat down with AABANY to share reflections on the oral argument, diversity among litigators, and the importance of pro bono work.
Looking back, the law was a natural career choice for Karen. She was president of the debate team in high school as well as at Yale University, where she majored in philosophy and political science. After receiving her J.D. from Harvard Law School, she moved to New York and began her career at Cravath. Two decades later, she appears regularly in federal and state courts on behalf of corporate clients, she was named a "Notable Woman in Law" by Crain's New York Business, and she received both the Federal Bar Council's Thurgood Marshall Award for Exceptional Pro Bono Service and the National Asian Pacific American Bar Association (NAPABA)'s Pro Bono award. Her pro bono clients include victims of discrimination, survivors of domestic violence, students with learning disabilities, victims of gun violence, and prisoners on civil rights issues.
Karen's impressive career reached another milestone this year when she had her first argument before the U.S. Supreme Court in Golan v. Saada . She represents Narkis Golan, an American citizen and survivor of domestic violence, and mother to a young child who was born in Italy. The case has been pending for nearly four years and was accepted by the Supreme Court for argument last December to resolve a circuit split on whether district courts are required to consider ameliorative measures to facilitate return of a child to a foreign country, even after finding that return would subject the child to a "grave risk" of exposure to harm.
During oral argument, the justices were active in their questioning and seemed interested in how best to address situations where the grave risk is sourced to a complex problem like domestic violence.  "Am I correct that the vast majority of these grave risk cases are ones involving domestic violence?" asked Justice Barrett, who continued to say: "It just seems to me that that's a much different case for ameliorative measures than, say, the nuclear plant next door that the Chief posited at the outset.  That would be a pretty straightforward move, and then there would be no more grave risk, whereas I think you get into the complexity of the financial support payments and the undertaking or restraining order, however it should be categorized, in these domestic abuse cases that pose maybe a unique circumstance?"  The recording of oral argument is available here. 
When asked whether she expected at the outset that this case would reach the U.S. Supreme Court, Karen replied that she did not. She added that, at the start of the case in 2018, "we were hopeful that it would end at the trial level." But despite establishing, by clear and convincing evidence, that return to Italy would expose the child to a grave risk of harm, the case went back and forth to the Second Circuit on the question of appropriate ameliorative measures. Ultimately, Karen and the team came to believe that the interpretation of the Hague Convention set forth by the Second Circuit required review by the Supreme Court. Despite the extraordinarily slim odds of having a case accepted for argument, the Supreme Court asked the Solicitor General to weigh in on the cert petition and ultimately granted cert.
Arguing before the Supreme Court is the dream of many litigators. Karen prepared through "lots of moots [i.e., practice sessions], testing answers to every conceivable question we could think of, and reflection and discussion of the issues with colleagues, co-counsel, and pretty much anyone willing to talk about it." In terms of approach to oral argument, she felt she needed to get straight to the point and anticipate challenging questions from the Justices about the key legal issues. Although the preparation process was similar to what she has done for other appellate arguments, it was clearly "more nerve-wracking, more high profile, and more work." She credits having an amazing team supporting her at Morvillo, the incredible work of the Paul, Weiss team (her former firm and co-counsel throughout the case), and the lawyers at the Zashin firm (co-counsel at the Supreme Court merits stage). Although the oral argument was in person, it was not open to the public because of COVID-19 restrictions. Karen was accompanied only by co-counsel Dan Levi from Paul, Weiss on the big day.
At the Supreme Court argument, the Solicitor General's office was represented by Frederick Liu, and the Respondent Jacky Saada was represented by Richard Min, a family law attorney in New York.  It is believed that this was the first time all three advocates arguing a case before the Supreme Court were of AAPI descent. This is a remarkable moment for the AAPI community, and for AAPI litigators.  Karen recognizes that it was important to "push [herself] to create the moment" and not to "be intimidated by milestones." 
Karen is a strong advocate for diversity in the courtroom and in law firms.  She advises young litigators to strengthen their courtroom skills and give back to the community through pro bono work.  Karen has been recognized for her pro bono commitment over the years and generally works on one or two ongoing pro bono matters on top of her regular workload. Reflecting on her career thus far, Karen sees her persistence, optimism, and creative thinking, as survival skills that have led to great opportunities.  "You just have to push through… . Keep you head up and keep moving toward your goals.  Don't let the machine crush you."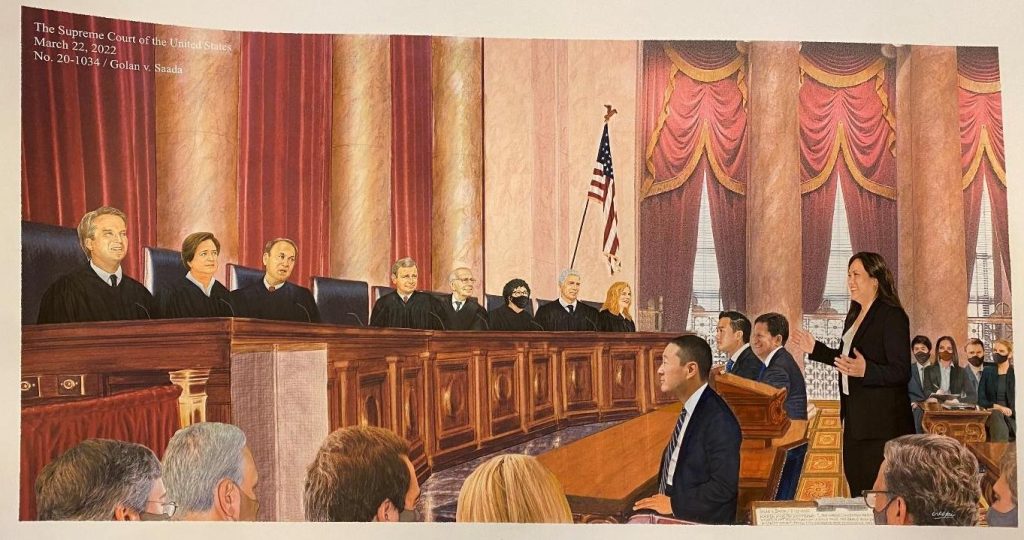 Oral argument in Golan v. Saada (20-1034) by Todd Crespi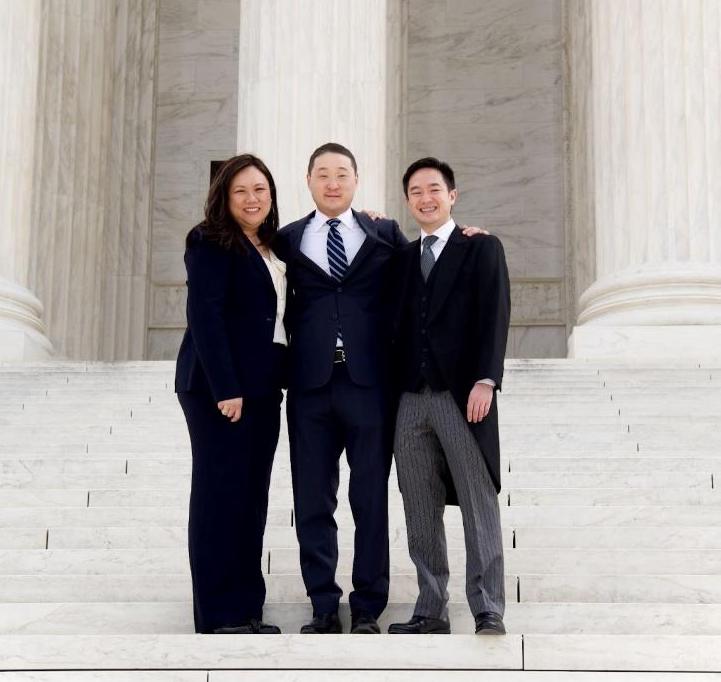 Karen King, Richard Min, and Fred Liu, who argued Golan v. Saada (20-1034)