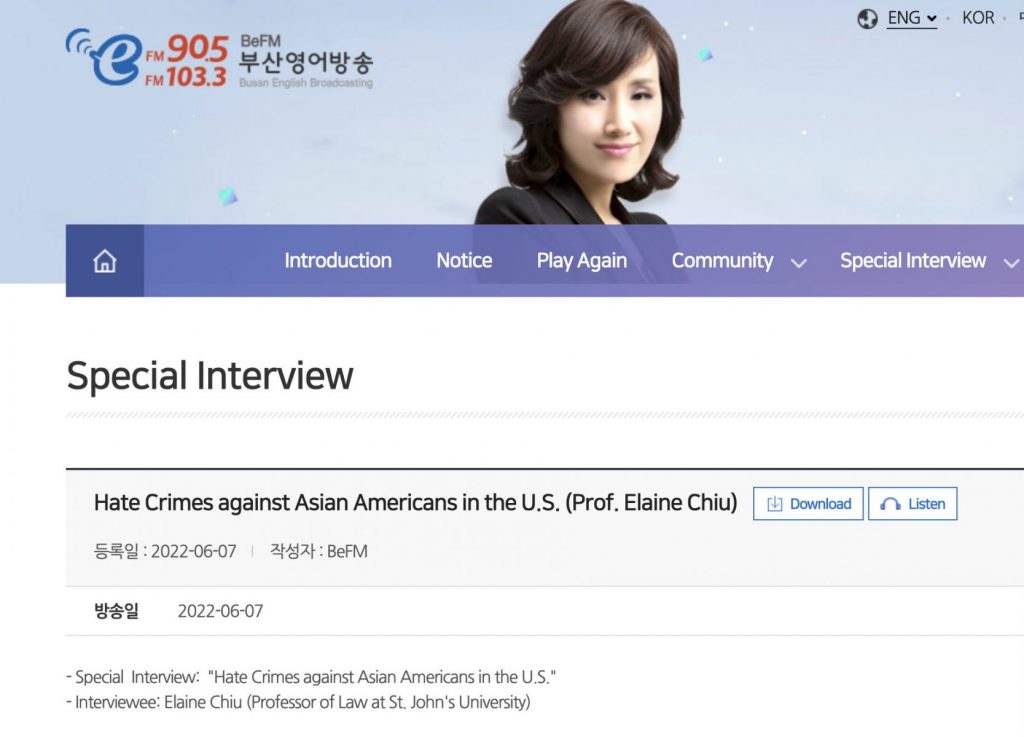 Elaine Chiu, Professor of Law at St. John's School of Law, Academic Committee Co-Chair, and member of the Anti-Asian Violence Task Force at AABANY, detailed how hate crimes have affected Asian Americans in the United States in a special interview on a Korean Radio Show, Morning Wave In Busan, on June 6th, 2022.
Prof. Chiu provided an overview of the situation by referring to the Center for the Study of Hate and Extremism. The Center reported that anti-Asian hate crimes have increased by 339% from 2020 to 2021. This alarming percentage is exemplified by the growing number of news reports and stories of Asian hate crimes experienced by Asian Americans across the country.
Focusing specifically on New York City, Prof. Chiu, along with other members of AABANY's Anti-Asian Violence Task Force, looked at the number of hate incidents against Asians reported to the New York City Police Department. In 2020, Prof. Chiu mentioned 28 hate crimes reported, in contrast to 2021, when a total of 131 hate crimes were accounted for in their report. This unprecedented increase of 361% traces back to the outbreak of the pandemic in March 2020. AABANY reported this in greater detail in its Endless Tide report, which followed the Rising Tide report published in 2021, to raise awareness about the hate crimes and violence that the AAPI community has experienced over the last two years.
Prof. Chiu also states that AAPI Americans have long been victims of racial violence, discrimination, and exclusion. One of the most well-known victims of hate crimes is Vincent Chin. Chin, who was brutally murdered after being beaten by two white men in Detroit, caused an uproar Asian American community after his assailants received a mere $3000 fine and probation upon sentencing. Forty years after Chin's brutal murder, Prof. Chiu states that it is clear that the pandemic did not create hate crimes against Asians but instead led to them.
She also states that the explosion of hate crimes against AAPI persons can be attributed to the divisiveness pervasive in the United States, as demonstrated during Trump's presidency when he enabled xenophobia against Asians by calling COVID-19 the "Kung Flu." Moreover, with the rise of China as a global superpower, the racial lines are further exacerbated and felt by many Chinese Americans residing in the United States today. Prof. Chiu also states that the steady demise of mental health resources and Americans' ready access to guns and deadly assault weapons can be contributing factors to this issue.
Prof. Chiu ended the interview by affirming President Biden's meeting with BTS (방탄소년단), a world famous K-pop group. BTS was invited to the White House to talk about Asian representation and address the amount of misinformation regarding the rise in Anti Asian hate crimes. Prof. Chiu further highlighted the importance of how President Biden and BTS's efforts extend a sense of hope and positivity for many. With the continued rise in hate crimes and attacks against Asians, Prof. Chiu called on everyone on social media, especially those who have influence and following like BTS, to continue to visibly oppose and actively resist hate crimes against the AAPI community.
Listen to Prof. Chiu's full interview with Morning Wave In Busan here.