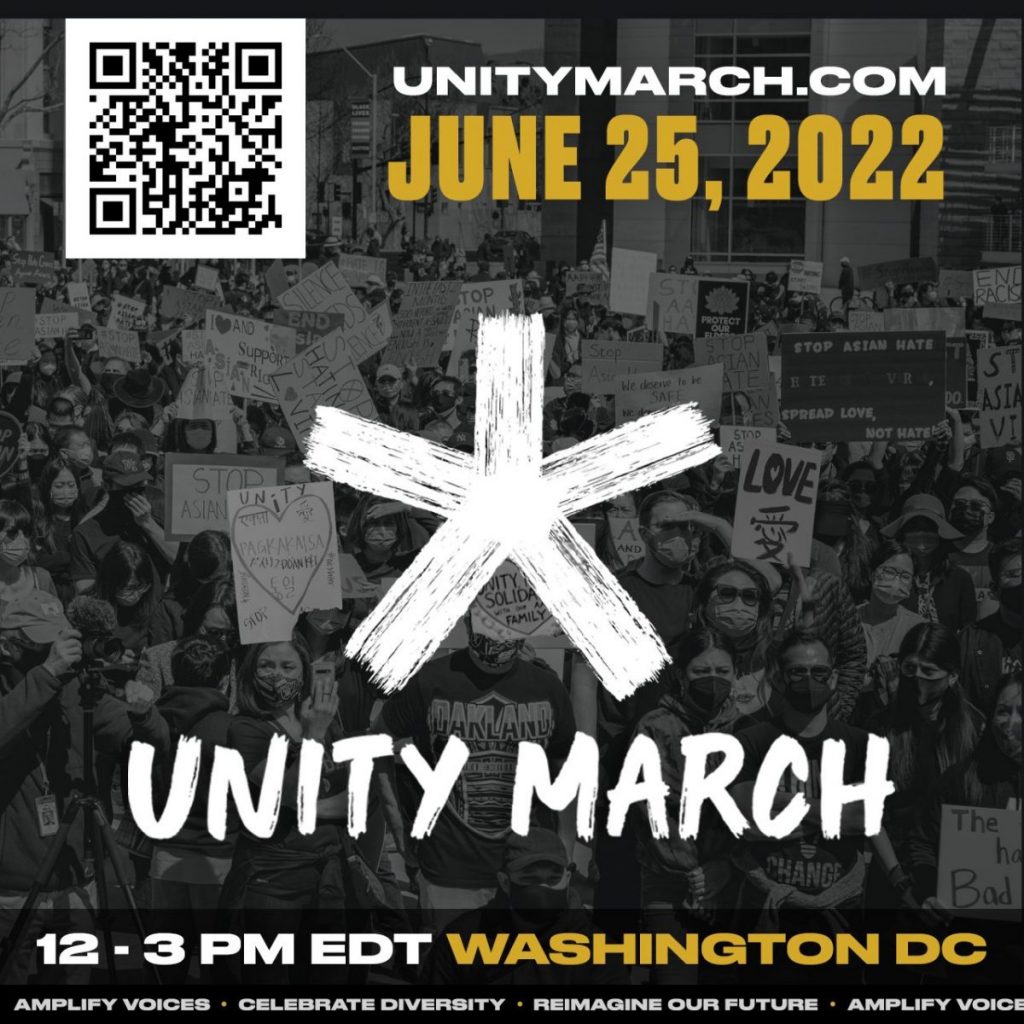 Saturday, June 25, 2022 | 12:00 – 3:00 pm ET
NAPABA is a proud co-sponsor of the first-ever Unity March, an Asian American multicultural event to advance socioeconomic and cultural equity, racial justice, and solidarity. The Washington, D.C., mobilization aims to bring together the diverse Asian American and Pacific Islander diaspora with multicultural partners across the LGBTQ+, Muslim, disability communities, Black, Indigenous, Latinx, and Arab American communities. The goal is to gather more than 25,000 advocates and allies to the National Mall and we need your help to form a robust NAPABA contingent!
Volunteers and Attendees Needed for March
The Unity March is seeking volunteers to serve as rally marshals for the event to ensure everyone's rights are respected. Rally marshals are responsible for monitoring crowds, reporting any disturbances, directing attendees, and helping ensure the health and safety for all. By signing up for the NAPABA Community Service Corps, a new platform for NAPABA members to take action for impact locally and nationally, you can register for the march as an attendee or a volunteer, and view our other opportunities to be part of a national infrastructure of trained members committed to being AANHPI lawyers in action. Click the Volunteer Now button below and navigate to the "Volunteer Now" tab to sign up.

Events and Travel Details
Reception | Friday, June 24 | 7:00 -9:00 pm
Kick off the Unity March with APIAVote, the host committee organizers, partners, and other special guests at a reception in the Microsoft Innovation and Policy Center. RSVP here.
Poster-Making | Saturday, June 25 | 9:00 – 11:00 am
Join APIAVote for a poster-making session before the Unity March! Stop by the Capital Hilton hotel to make a poster and then head to the Unity March with a large group.
NAPABA Networking Reception | Saturday, June 25 | 4:00 – 6:00 pm
Following the Unity March, there will be a NAPABA networking reception and karaoke in D.C.'s Chinatown at Wok and Roll.
Travel and Stipend
Buses will be made available from New York City, New Jersey (city TBD), Philadelphia and Raleigh/Durham, NC. Buses will leave early morning and arrive in D.C. by 11:30 am. The buses will leave D.C. late afternoon so you can arrive back home that same evening. Complete this form and they will reach out to you for instructions on next steps. To help make our group as large as possible, NAPABA is offering a $250 travel stipend to those who sign up to volunteer. The purpose of the stipend is to assist with travel and/or stay in D.C. for volunteers traveling from out of state. **You must sign up to volunteer for the march through the NAPABA form to be eligible for reimbursement.**