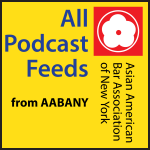 Nelson Mar, Bronx Legal Services attorney, education law specialist and an AABANY member, was quoted in a  September 16 WNYC news story entitled "Sending Disruptive Students to the E.R. Worries Docs, Advocates."
"On the one hand it's a little shocking but on the other hand it's not surprising," said Nelson Mar, an attorney at Bronx Legal Services, about the patterns. Some of the District 75 schools in buildings that made many calls are known for taking large concentrations of students who are classified as emotionally disturbed.
You can read the full story on the WNYC.org website or listen to it by clicking on the link above.