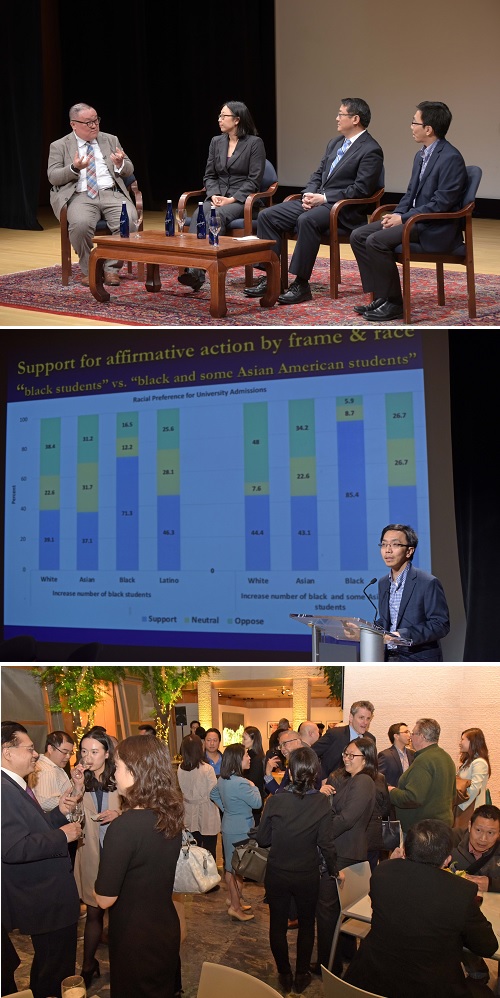 On Tuesday April 30, 2019, Asia Society and the Asian American Bar Association of New York co-hosted a lively discussion on the lawsuit Students for Fair Admission vs. Harvard University.  Currently winding its way through the Federal courts, Asian Americans and affirmative action have become a point of focus in contemporary political debate.
Within the Asian American community itself, a grassroots Asian American conservative movement has emerged in the last decade, in an attempt to end affirmative action. This conservative movement alleges that admissions discrimination in the name of diversity is wrong. That view was represented by Jack Ouyang, from the Asian American Coalition for Education.
Asian American liberals believe that conservative Asian Americans are being used as cover to abolish affirmative action, and fear a defeat of affirmative action means a loss for diversity in all of higher education. Nicole Gon Ochi from Asian American Advancing Justice -LA represented the view.
Dr. Van Tran, Columbia University sociologist, presented new research on what Asian Americans thought of affirmative action.
Audience members were treated to a deep dive into the issue, with views from both sides represented on the podium. A reception followed, at which attendees got to continue their conversations around this important topic.
Thanks to everyone who came out for this event. Thanks especially to all the speakers for their insights and views. See below for short bios of all the speakers. (Thanks to Elsa Ruiz for the event photos.)
Chris M. Kwok, Esq. (moderator) serves as the Co-Chair of the Issues Committee and Asia Practice Committee for the Asian American Bar Association of New York. He received his B.A from Cornell University with a major in Government and minor in Asian American studies, and his J.D from UCLA Law School, where he served on the staff of the Asian American Pacific Islander Law Journal. Formerly, he was the Alternative Dispute Resolution (ADR) Coordinator at the U.S. Equal Employment Commission in the New York District office. He is a mediator with JAMS.
Dr. Van C. Tran is a professor of Sociology at Columbia University whose research and writing broadly focuses on the incorporation of Asian immigrants and their children into American culture, politics and society. He has served in many positions at both the Eastern Sociological Society and the American Sociological Association. He is a frequent commentator in the media and was selected as an NPR Source of the Week in July of 2015.
Nicole Gon Ochi, Esq. is the Supervising Attorney at Asian Americans Advancing Justice—LA's Impact Litigation unit. She joined Advancing Justice as a Skadden Fellow in 2010 and has taken a lead role in litigating and providing advocacy on matters involving employment discrimination, education, workers' rights, affordable housing preservation, language access, and civil rights.
Dr. Jack Ouyang is the Vice President of Operations at the Asian American Coalition for Education. Mr. Ouyang has been an outspoken Chinese American civil rights activist and was a key organizer of the Chinese American for Equality. He was a board chair at the Millburn Short Hills Chinese Association and the Millburn Institute of Talent. He is currently an IT Professional based in New Jersey.