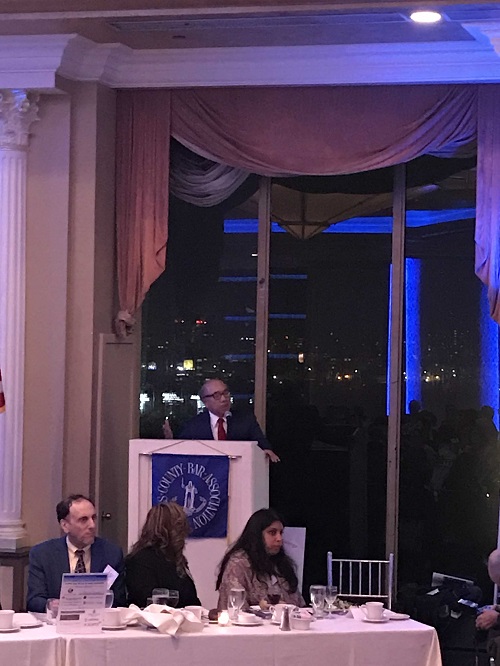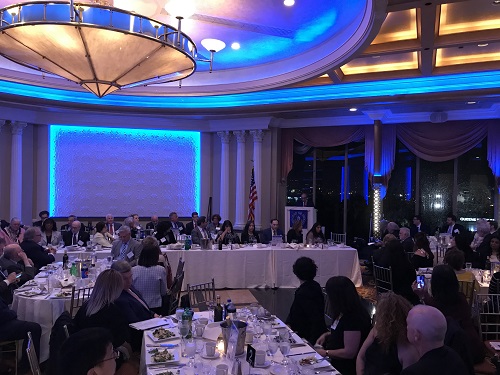 Congratulations to Hon. Randall T. Eng, retired Presiding Justice of the New York Supreme Court, Appellate Division, Second Department, on receiving the Charles W. Froessel Award from Queens County Bar Association at its Annual Dinner held on May 2 at Terrace on the Park in Flushing Meadows Corona Park. This award celebrates Justice Eng's achievements as a legal professional and honors his contributions to the Queens County Bar Association.
Justice Eng was born in Guangzhou, China, and was raised in New York City. He received a Juris Doctor degree from St. John's University School of Law in 1972. Upon graduating from law school, Justice Eng served as an assistant district attorney in Queens. In 1983, Justice Eng was appointed to the Criminal Court of the City of New York by Mayor Edward I. Koch. In 1988, Justice Eng was appointed to serve as an Acting Justice of New York State Supreme Court. In 1990, Justice Eng was elected to stay in the position and was re-elected in 2004. Between 2007 and 2008, Justice Eng was appointed to serve a short term as Administrative Judge of the Criminal Term of Queens County Supreme Court, and he served in this role until he was elevated to the Appellate Division in 2008. In 2012, Governor Andrew Cuomo appointed Justice Eng to lead the Second Department as the presiding justice, where he oversaw one of the busiest judicial departments in the country. This appointment made Justice Eng the first Asian American to serve as a presiding justice in New York State. Justice Eng retired from the bench and joined Meyer, Suozzi, English & Klein, P.C. as Of Counsel in January 2018.
Over his long and prolific legal career, Justice Eng has received numerous honors, including AABANY's Norman Lau Kee Trailblazer Award in 2017, OCA-NY Lifetime Achievement Award in 2018, and the Daniel K. Inouye Trailblazer Award in 2016, the highest honor bestowed by the National Asian Pacific American Bar Association, of which AABANY is an affiliate.
As AABANY President Brian Song stated: "AABANY congratulates Justice Eng on receiving the Charles W. Froessel Award from the Queens County Bar Association," states AABANY President Brian Song, "It is yet another well-deserved recognition of Justice Eng's achievements as a prominent jurist who has led the way for generations of attorneys and judges to follow his example. During May, when we celebrate Asian Pacific American Heritage Month, it is a most fitting tribute that we recognize and honor the milestones and achievements of role models like Justice Randall Eng. None of us would be here today were it not for Justice Eng and other APA judges and lawyers who led the way."
Please join AABANY in congratulating Hon. Randall T. Eng .