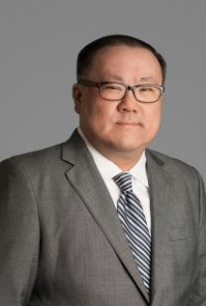 In response to the anti-Asian violence and harassment exacerbated by COVID-19, Chris Kwok has created important spaces for the APIA community to address and heal from these discriminatory acts. As Chair of the Issues Committee of AABANY, Chris has organized numerous panels and discussions to educate individuals about the history of anti-Asian racism and xenophobia relating to public health crises, and has co-authored an op-ed for the New York Daily News on the topic.
Born in China, Chris moved to the United States in 1979, where his family was among the first wave of Asian immigrants to settle in Flushing. He had always been interested in history and was able to focus on Chinese and Asian American history as an undergraduate at Cornell. He then went on to UCLA Law School to continue his developing interest in civil rights and critical race theory. Chris served as a mediator for the New York District Office of the U.S. Equal Employment Opportunity Commission (EEOC). Chris also served on the White House Initiative on Asian Americans and Pacific Islanders and was the founding chair of the Asian American Pacific Islander Network. Currently, he is a mediator of labor and employment disputes at JAMS.
The idea that Asian Americans are carriers of disease is not new–it is deeply rooted in Western and American thought. Chris cites the bubonic plague outbreak in San Francisco in the early 1900s as an example of APIA communities being subjected to similar hatred and discrimination we see today. In order to better understand and combat the anti-Asian violence and rhetoric from COVID-19, and also to become better citizens and community members, Asian Americans must be aware of their own history in this country. Unfortunately, Asian American history is not mainstream: this education is not taught but must be self-directed. Through his programs and discussions, Chris hopes to share this under-acknowledged history and "reconstruct the narratives that are hidden in plain sight for most Asian Americans." 
Over the past two months, Chris has organized and been featured in many events addressing anti-Asian violence and harassment. On April 3, he led a panel discussion through the National Asian Pacific American Bar Association (NAPABA) that aimed to educate Asian American lawyers on the history of using public health concerns to justify anti-Asian sentiments. On April 20, Chris participated in a virtual town hall with Alvin Bragg, former Chief Deputy at the New York State Attorney General's Office, where he spoke to a larger audience about multi-racial coalition building to combat all types of hate crimes. Chris also spoke on a panel for the Asian American Arts Alliance on May 19, where he discussed the rise in COVID-19 hate crimes and how Asian American artists have the power to retell the lost narratives of the APIA community in American history. On May 28, Chris gave the introductory remarks for a panel responding to a virtual trial reenactment of the Vincent Chin case, where he highlighted the relevance of Vincent Chin's murder in the current environment of anti-Asian harassment and violence. Finally, Chris served as a panelist for the Thomson Reuters Asian Affinity Network on May 28, where he spoke to a corporate audience about the need to build consciousness and address these anti-Asian sentiments in a setting where conversations about diversity and inclusion are generally more constrained.
From the responses he has received from the discussions and panels, Chris has realized that Asian Americans yearn for a space to have these conversations about their histories and identities. The political and social culture that Asian Americans live in limits their opportunities to talk through experiences with discrimination, especially within a public sphere. Chris highlighted that many Asian Americans, given the current context of George Floyd's murder and the greater Black Lives Matter protests, do not believe they should speak out about their own experiences of anti-Asian violence and harassment. There is no question that the Black community faces longer, systemic, and deadly forms of discrimination. But this does not mean that Asian Americans must be apologetic when talking about their own experiences with racism or stop having conversations addressing their own histories and identities. Rather, the APIA community can show solidarity with the Black community and recognize the experiences of African Americans, while also fighting against and raising awareness of anti-Asian sentiments. Both of these conversations can occur at the same time, as long as Asian Americans acknowledge the context and connection of their experiences to those of the Black community.
Finally, Chris stressed that the APIA community must never stop talking about their history and the prevalence of anti-Asian violence and harassment. Everyone has a different role to play in fighting discrimination and hatred against the APIA community: some may lead important conversations and movements, while others may financially contribute to community groups. Each individual must do "one more thing than what they're doing already," as their efforts may inspire others to do the same. When Asian Americans have discussions about their identities and histories, they raise greater consciousness of Asian American issues and contribute to ending these acts of anti-Asian violence and hatred.
We thank Chris Kwok for facilitating much-needed conversations within AABANY and the greater APIA community. Chris will be speaking on a panel for the 2020 Federal Bar Association Eastern District of New York Diversity Forum: The Impact of COVID-19 on Minority Communities on June 23, 2020. To register for this event, see https://www.aabany.org/events/event_details.asp?legacy=1&id=1386519.  For more information on the Issues Committee, see https://www.aabany.org/page/154.