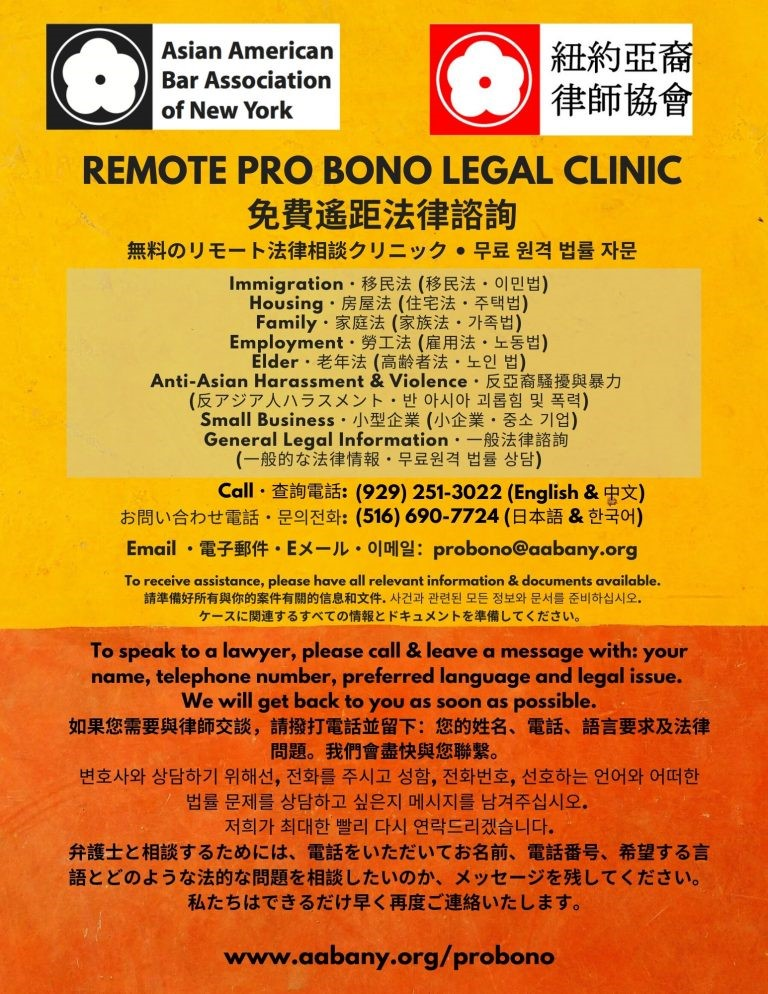 To meet the continuing need of the AAPI community for assistance during the COVID-19 pandemic, AABANY's Pro Bono and Community Service Committee launched its Remote Legal Assistance Clinic this summer. Since June, Clinic attorney volunteers have received 138 calls from individuals with limited English proficiency and have assisted 116 callers from the AAPI community with their legal matters involving housing, immigration, criminal law, small business, matrimonial and family law, elder law, and trusts and estates. This would not have been possible without the dedicated volunteer attorneys, generously giving of their expertise and time, and the law students, whose multilingual assistance have been indispensable in facilitating access for our LEP community members. A special note of recognition to May Wong and Judy Lee, for spearheading the operation of the Remote Clinic, and to William Lee, for leading and mentoring the highly prolific AABANY COVID Student Task Force whose volunteers have been instrumental in publicizing the Remote Clinic and other AABANY COVID-19 Related Resources through social media platforms and door-to-door campaigns in local New York City neighborhoods.
AABANY deeply expresses its appreciation to the following volunteer attorneys:
Asako Aiba
Youngjin Choi
Rina Gurung
Thomas Hou
Eugene Kim
Karen King
Ming Chu (Judy) Lee
William Lee
Beatrice Leong
Zhixian Jessie Liu
Yan Sin
Samantha Sumilang
Ada Wang
Edmond Wong
May Wong
Siyan Joane Wong
Angela Wu
Shengyang Wu
Karen Kithan Yau
AABANY deeply expresses its appreciation to the following law student volunteers and active APALSAs:
Jenna Agatep
Nanako Arai
Justina Chen
Chao-Yung (Kloe) Chiu
Esther Choi
Jing Chu
Jeremy Chu
Long Dang
Andersen Gu
Alex Hwang
Dianna Lam
Connie Lee
Olympia Moy
Yang Ni
Anthony Park
Jenny Park
Annalee Patel
Xinyi Shen
Annie Tan
Meng Zhang
Asian Pacific American Law Student Associations at Brooklyn Law, Cardozo, Columbia, Cornell, CUNY, Fordham, Harvard, Hofstra, New York Law School, New York University, Seton Hall, St. John's.
Additional thanks to Jenna Agatep, AALFNY Pro Bono Scholar, Kwok Ng, and Karen Lin, for ongoing administrative assistance with the Remote Clinic.