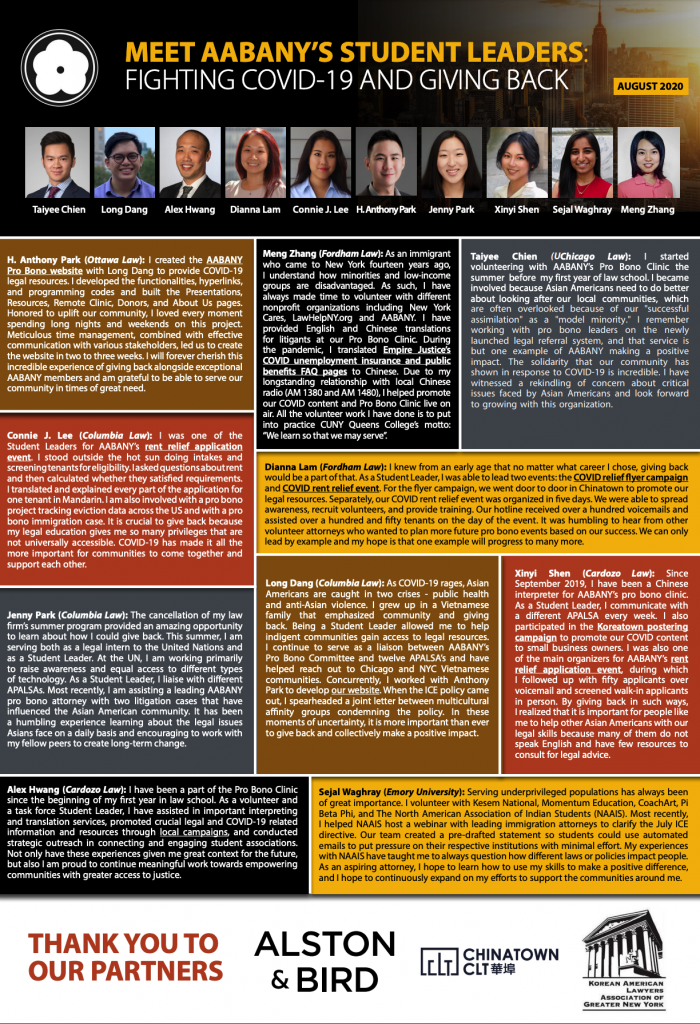 AABANY recognizes and thanks its Student Leaders for all their assistance this summer in fighting COVID-19 and giving back to the Asian American community in New York. Our AABANY student leaders are:
Taiyee Chien, UChicago Law
Long Dang, Columbia Law
Alex Hwang, Cardozo Law
Dianna Lam, Fordham Law
Connie J. Lee, Columbia Law
H. Anthony Park, Ottawa Law
Jenny Park, Columbia Law
Xinyi Shen, Cardozo Law
Sejal Waghray, Emory University
Meng Zhang, Fordham Law
The flyer above contains short descriptions about why each AABANY Student Leader wants to give back and how they have been doing it, such as by volunteering at AABANY's Pro Bono Clinic or participating in various COVID-19 relief activities and programs over the summer.
Please join us in thanking all our AABANY Student Leaders. We also recognize and thank Will Lee, Vice Chair of the Student Outreach Committee, for his leadership in bringing together our Student Leaders and helping AABANY channel their talents and energy to benefit the New York Asian American community.