The Asian American Bar Association of New York (AABANY) congratulates Littler Mendelson P.C. (Littler) on receiving the National Asian Pacific American Bar Association's (NAPABA's) 2020 Law Firm Diversity Award. Littler is the world's largest employment and labor law firm with over 1,500 attorneys in 95 offices globally and AABANY is honored to have the support of Littler as a Silver Sponsor.
The NAPABA Law Firm Diversity Award honors law firms that actively and consistently recruit, retain, and promote Asian Pacific American (APA) lawyers to equity partnership and firm leadership. It also celebrates law firms' successes in their support for APA lawyers. Through its many initiatives, Littler is creating a welcoming environment for its employees, accepting of different backgrounds, and is continuing to look for ways to become a more diverse and inclusive employer.
Eddie Chyun and William Ng — shareholders in the Cleveland, Ohio and Long Island, New York offices, respectively — both emphasized their membership in Littler's 'Ohana affinity group 'Ohana, when asked about their experiences as an APA lawyer at the firm. Within the first few weeks after being hired, Eddie and Will each were approached through email or word-of-mouth about joining 'Ohana, the affinity group for Asian, South Asian, Middle Eastern, North African, and Pacific Islander-American attorneys. The invitation left a memorable impression on them both as it helped ease Eddie and Will's transition into the law firm by quickly welcoming them into the APA community within Littler. Being a part of 'Ohana allows them to know APA lawyers across all of Littler's offices. Affinity groups meet in-person every other year to discuss diversity and inclusion, work on professional development skills such as practicing elevator pitches, and collaborate on coming up with new initiatives relating to retention and advancement, associate development, etc. that can help APA lawyers' success in the office. Throughout the year, they participate in social gatherings, quarterly calls, and other events which provide members with support and networking opportunities at the firm.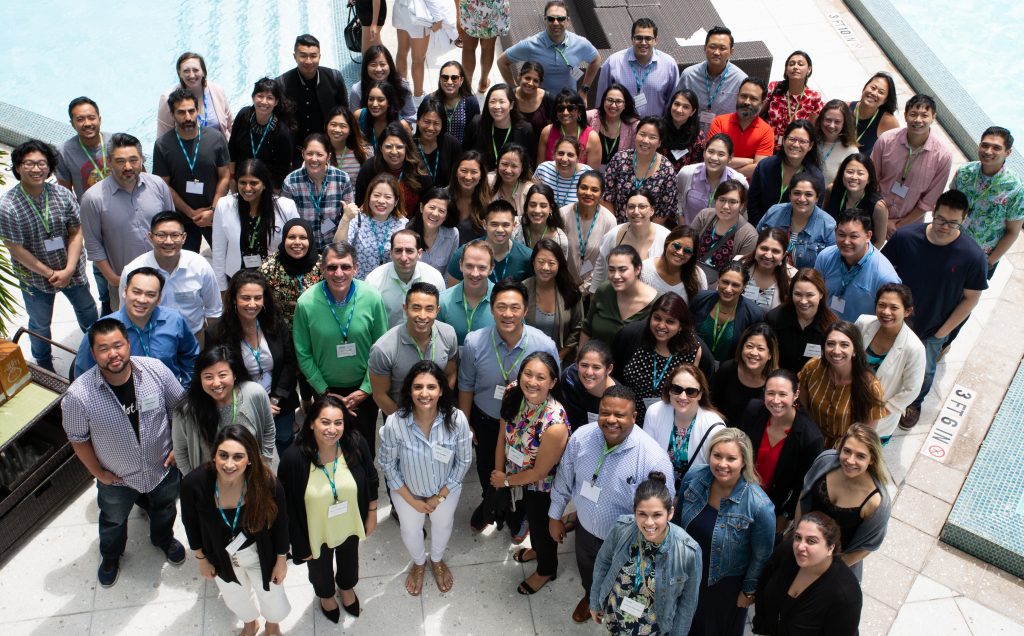 Eddie also serves as co-chair of Littler's 20-person Diversity & Inclusion Council (D&IC), which includes four APA attorneys among its diverse members. The D&IC focuses on increasing the hiring of individuals from diverse backgrounds and increasing professional opportunities for diverse employees like mentorships and leadership opportunities. Littler's programs include the Career Advocacy Program (CAP) and Investment for Success, which support and promote diverse attorneys in the firm, including APA lawyers, to leadership positions.
Littler's award-winning CAP selects higher-level, high-performing associates (Protégés) who identify as diverse and pairs them with the firm's most influential leaders (Advocates) and client (Champions) who encourage their career growth. From 2015 to 2020, Protégés represented on average 28% and up to 40% of the firm's new shareholder class. Twenty-four former Protégés, including eight APA attorneys, have been elevated to shareholder and continue to participate in the program. Currently, 11 of the 31 Protégés in CAP are APA attorneys. The Investment for Success Program pairs recently hired diverse attorneys with a shareholder to help them better integrate into the firm, as the transition in the first few weeks is critical for an attorney's success in the firm. There are currently 30 diverse associates, including seven APA attorneys, participating in the program. Eddie and Will pointed out the importance of these programs because APA lawyers tend to face barriers with advancement in their positions such as a lack of access to mentors, and with these programs, APA attorneys are able to be mentored by a senior attorney, who ensures that they receive the proper mix of work and opportunities to succeed at the law firm.
Amid the COVID-19 pandemic, Littler continues to create a diverse and inclusive environment through holding their mentorship programs and affinity group meetings virtually.
Littler's creation of the Career Advocacy Program and the Investment for Success program have promoted and continues to promote APA lawyers to leadership positions within the firm, and the 'Ohana affinity group continues to provide a supportive community among the firm's APA lawyers. Littler will be honored at a reception for award recipients held in December 2020.
Please join AABANY in congratulating Littler on receiving the Law Firm Diversity Award.