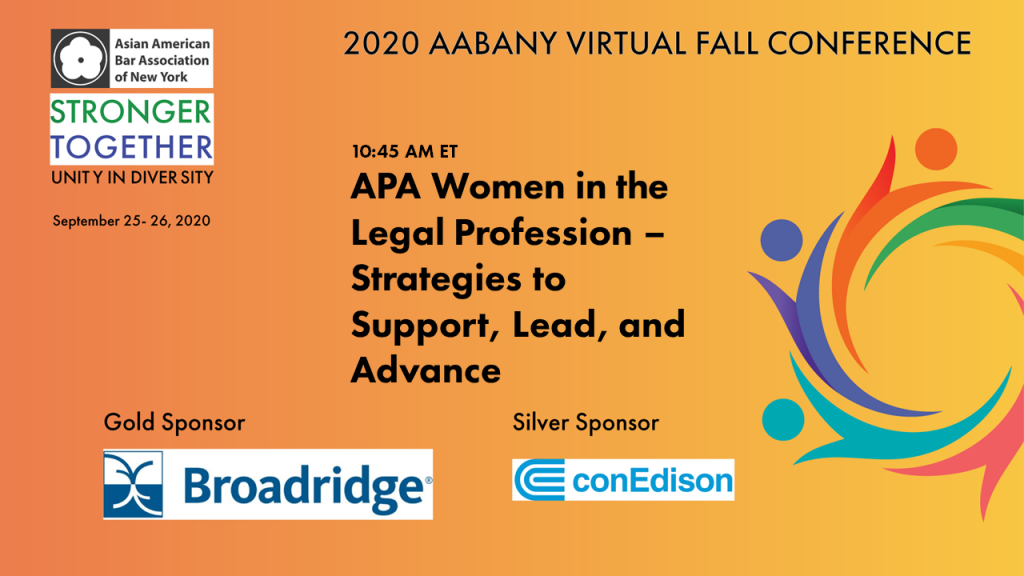 "Stronger Together: APA Women in the Legal Profession – Strategies to Support, Lead, and Advance" was one of the many panels presented at AABANY's Fall Conference this year. Held on Saturday, September 26 from 10:45 am to 12:15 pm, the panelists consisted of:
Moderators:
Connie Montoya, Partner, Hinshaw & Culbertson
Sandra Yamate, CEO, Institute for Inclusion in the Legal Profession
Speakers:
Anna Mercado Clark, Partner, Phillips Lytle LLP
Judy Lam, Partner, Maynard Cooper & Gale
Honorable Grace E. Lee, Administrative Law Judge, State of New York
Sandra Leung, General Counsel, Bristol Myers Squibb
Sapna Palla, Partner, Wiggin and Dana
The panel was not recorded to create a safe environment for panelists as well as listeners so that there could be a candid conversation about race and the experiences APA women have had to face throughout their legal careers.
The panel started off with discussing the challenges and barriers of being an APA woman in the legal profession. Shared experiences among the panelists were that they were often overlooked in the courtroom, being perceived and mistaken as the court interpreter or court reporter rather than as the lawyer or judge. Even when they were correctly perceived as the lawyer, the panelists were still treated differently compared to their white male counterparts. In response to these challenges, the panelists discussed how it was okay to feel uncomfortable about these topics and it is important to focus on the microaggressions. If people are more vocal about the uncomfortable situations and share their experiences with the community, it creates a greater ability to mobilize and create change.
The panelists stressed the importance of seeing more APA women in higher positions and one way of achieving that is through having role models and mentors for rising APA lawyers. Current AABANY President, Sapna Palla, highlighted the AABANY Leadership Development Program which has been successful in teaching participants the skills to advance into executive positions, and she hopes to see more programs that do the same.
The panel ended with each panelist going over one action item they were willing to commit to within the next year that will help support and advance APA women in the legal profession. The general consensus among the panelists was to start a mentoring circle. Not only do the panelists want to be an available resource for people who come up to them and have questions, but also they want to be active in following up with mentees and seeking feedback from them.
The panelists also vow to use their positions as a platform to continue this dialogue. Advancing APA women in the legal profession is an ongoing conversation and hopefully, listeners of the panel are inspired to continue the dialogue with their friends, peers, and colleagues.
Thank you to the panelists, Anna Mercado Clark, Judy Lam, Honorable Grace E. Lee, Sandra Leung, and Sapna Palla, and moderators, Connie Montoya and Sandra Yamate for sharing their experiences and leading an important discussion about supporting APA women in the legal profession.