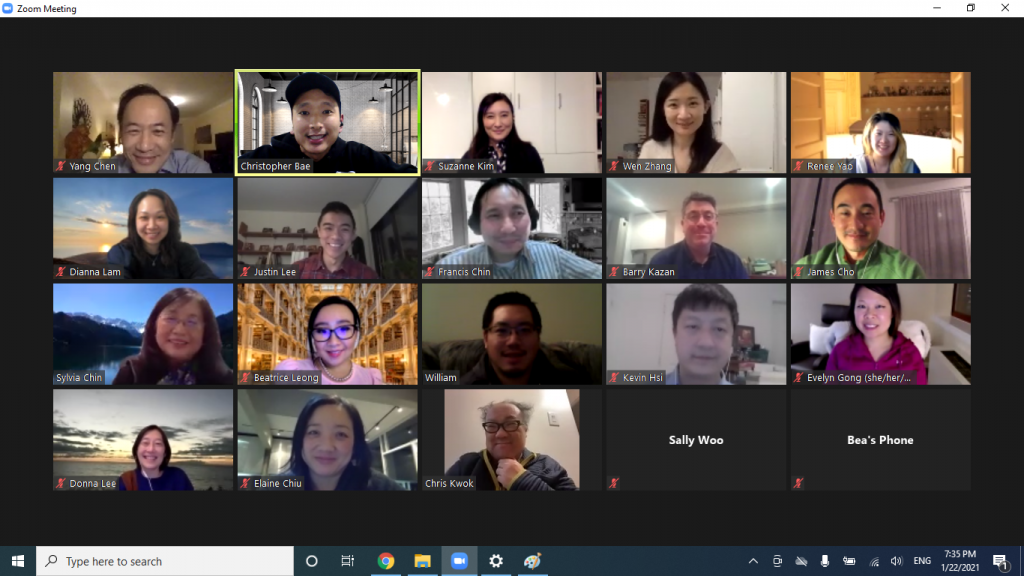 On January 22, 2021, the Membership Committee hosted their weekly virtual Membership Mixer, with 20 participants in attendance. This week AABANY featured the Academic Committee represented by Co-Chairs Elaine Chiu, James Cho, Suzanne Kim, and Donna Lee. They shared with the group their career paths from being practitioners to professors, gave tips on how to become adjunct professors, and took questions about careers in academia.
This week, the ice breaker question to participants was: "What was your favorite law school class?" Participants responded that their favorite classes were property, criminal law, corporations, evidence, civil procedure, constitutional law, critical race theory, international human rights, law of international development, civil rights, and law and the movies.
The Membership Committee previously hosted Monthly Mixers at bars, ballparks, stadiums, operas, etc, but due to COVID, we have moved online to offer members a weekly outlet to share their feelings, see old friends, and make new connections. Mixers start at 6:30pm on Friday and the main event ends at 7:30pm but many often stay on after 7:30pm for smaller breakout groups.
Membership Committee will continue to host weekly virtual mixers until it is safe to gather together again in person.
We are giving away door prizes at some of the mixers. In order to win, you must be a member and must RSVP on the calendar entry on the AABANY website to get a raffle number. Non-members can join the mixer but won't be eligible to win a prize. 
Congratulations to Dianna Lam for winning this week's prize: a full HD 1080p webcam with microphone and ring light! May your online courses at Fordham go smoothly, and your classmates and professors see and hear you in the best light!
Please join us on January 29, 2021 for our Meet the Board series, featuring Andy Yoo. Register by Thursday, Jan. 28, at https://www.aabany.org/events/event_details.asp?legacy=1&id=1468892.