AABANY hosted for the second time the Columbia Law School's Spring Break Caravan. This year, Caravan representative Angel Li (CLS '23) reached out to the Pro Bono & Community Service Committee (PBCS) and Student Outreach Committee (SOC) to supervise six students during the week of March 14, 2022. During this program, students shadowed volunteer attorneys at the Queens pro bono clinics held on Saturdays, researched and drafted legal training materials for the pro bono clinics, attended a legal community presentation about bankruptcy, and met with various mentors from law firms and SOC graduates.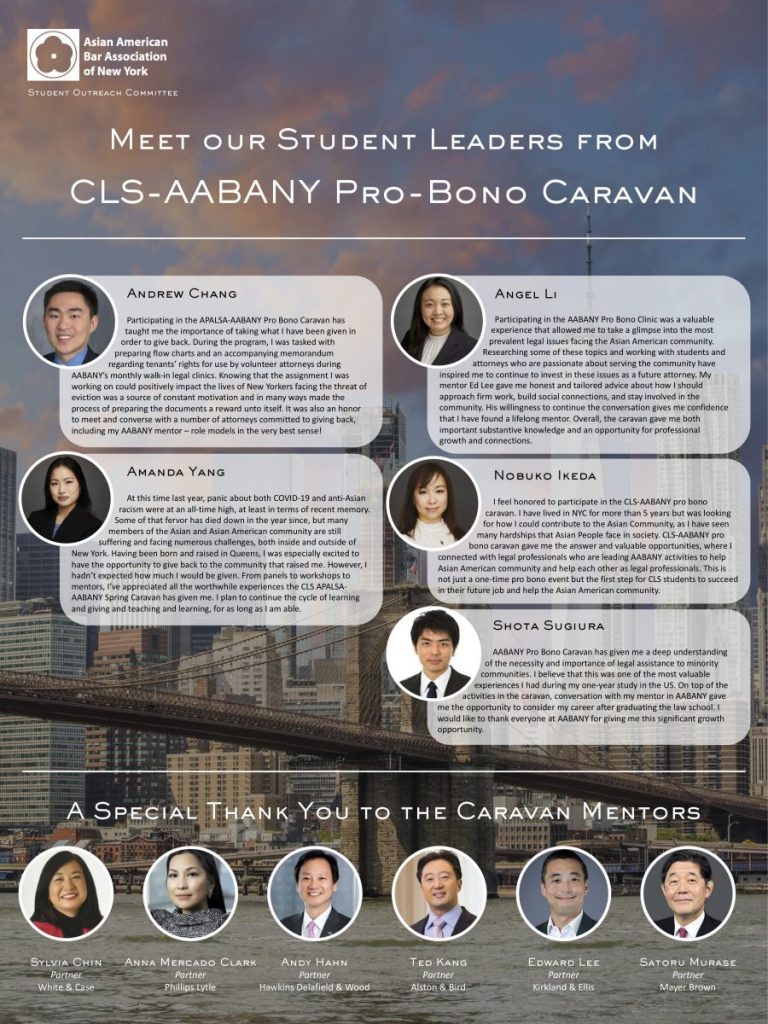 On behalf of PBCS, we want to thank these law students for creating much-needed training materials to help volunteer attorneys in recognizing common issues in housing, family, wills and estates, and immigration law with flowcharts and outlines. These pro bono clinics act like triages in which attorneys spot issues for the individuals and provide legal information and referrals within a 30-minute session. We've been quite fortunate to have the support of our volunteer attorneys who are willing to teach each other and to open the eyes of these young law students about the problems many indigent and limited English proficient clients face daily.
On behalf of SOC, we are grateful for the not-for profit and biglaw corporate attorneys coming together to mentor these law students. Despite their different backgrounds and areas of practice, members of AABANY are always generously contributing their time, resources, and efforts to aid the AAPI community and leading these law students to a career of their own choosing.
Rather than picking just one essay from the Caravan, we believe it's best to share with you all a snippet of these law students' thoughts about the Caravan. We wish them the best in completing their studies and continue the AABANY's spirit of giving back to the community.
Regards,
Eugene Kim, PBCS
William Lee, SOC
May Wong, PBCS
Supervisors of the Caravan
"In the first instance, I thoroughly enjoyed reading the texts that were assigned preparatory to the start of the Caravan. The excerpt from How Do You Live? was especially memorable as a means of getting me into the right mindset before the program even formally began. It goes without saying that behind every law student and lawyer lies a sizable aggregation of resources: years of schooling, various internship opportunities, and votes of confidence from a network of supportive people. Law students and lawyers are the products of considerable societal investment; as such, it is incumbent upon them to give back and to give generously."
-Andrew Chang –
"While I knew that our society had those problems, I realized that knowing problems is different from helping people facing the problems. I also understood that volunteer attorneys need to deal with various issues in different legal areas in a limited time in the clinic. Therefore, clients' problems are not entirely solved there, but clients are given helpful advice on the following steps to solve the problems."
– Nobuko Ikeda –
"Overall, I really valued not only peeking into the issues faced by the community, but also into how Asian American attorneys are helping combat those issues through the clinic. This caravan has inspired me to participate in the pro bono clinic as a future attorney, and I look forward to exploring even more ways to make the sessions efficient and to help the clients legally and emotionally."
-Angel Li –
"What I found during the research was that massive amounts of materials and resources are already provided by municipal bodies, government officials, and private law firms on the internet. However, people who are not legal professionals would have difficulty utilizing these public resources. The difficulty arises from a language barrier and complexity in understanding and applying legal standards to one's own situation."
– Shota Sugiura-
"I appreciated all the genuine and candid advice I received from our Caravan supervisors, and am especially grateful for the wisdom from my AABANY mentor. It was an amazing opportunity to hear from lawyers from a range of backgrounds: those working in public service, those at firms, those who have transitioned to in-house. It was an equally exciting chance to build bonds with other Columbia APALSA members who felt passionate about giving back to our community."
-Amanda Yang –