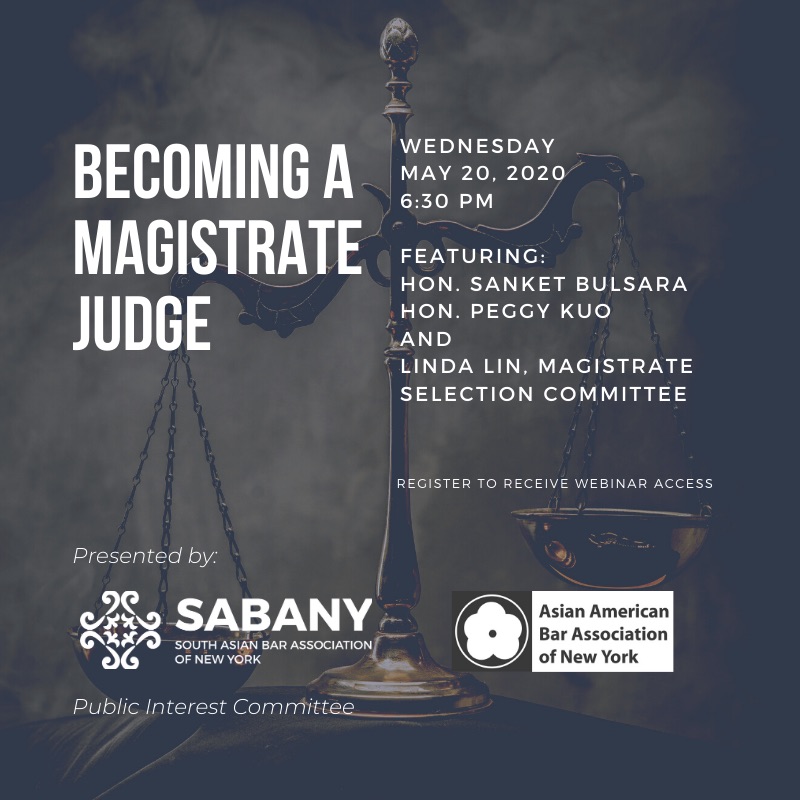 On May 20, 2020, the Judiciary Committee of the Asian American Bar Association of New York (AABANY) and the Public Interest Committee of the South Asian Bar Association of New York (SABANY) co-hosted a panel on how to become a Magistrate Judge. Recently, the Eastern District of New York announced vacancies for four US Magistrate Judge positions, the first time so many opportunities have been simultaneously available since the positions were created. The webinar provided important information and advice for individuals who might be considering a career as a Magistrate Judge.
The event featured panelists Hon. Sanket Bulsara, Hon. Peggy Kuo, and Linda Lin. Judge Bulsara was appointed as a Magistrate Judge of EDNY on August 28, 2017, and previously served as Acting General Counsel of the Securities and Exchange Commission. Judge Kuo was appointed on October 9, 2015, and prior to her appointment, she served as the Acting Deputy Chief of the Civil Rights Division Criminal Section at the U.S. Department of Justice; litigation counsel at Wilmer Hale, LLP; Chief Hearing Officer at the New York Stock Exchange; and Deputy Commissioner and General Counsel of the New York City Office of Administrative Trials and Hearings. Linda Lin is the General Counsel of Business Unit Support at QBE North America and a member of the EDNY Magistrate Judge Merit Selection Panel. Austin D'Souza, Principal Law Clerk to Hon. Faviola A. Soto at the New York Court of Claims and Vice President of Public Relations at SABANY, served as the moderator.
Judge Bulsara and Judge Kuo discussed their responsibilities as Magistrate Judges. They emphasized that though their docket is heavily civil, varying between 400-500 cases per judge, they also play an important role on the criminal side. Magistrate Judges are on criminal duty approximately once every ten weeks, during which they preside over arraignments, initial appearances, and bail hearings. They also conduct jury selection in felony cases. Judge Bulsara noted that his favorite part of being a Magistrate Judge is presiding over naturalization ceremonies and interacting with wonderful colleagues.
Linda Lin described the application process and how potential candidates are evaluated. Members of the Selection Panel independently review the applications and decide on which candidates to interview. Prior to the interview, the panel conducts due diligence and may reach out to references beyond those mentioned in the candidate's application. The Selection Panel also requests writing samples, preferably those that demonstrate analysis and are centered around advocacy and litigation. Finally, five names are presented to the Board of Judges, who decide whom to appoint as a Magistrate Judge. While reviewing applications, members of the Selection Panel look for the following qualities: scholarship, from academic records to achievements; active practice of the law, including breadth and depth of experience, professional competence, and pro bono and public service activities; knowledge of the court system and recent experience in front of the federal bench; and personal attributes, or judicial temperament.
Judge Kuo advised individuals applying to become a Magistrate Judge to prepare for their interviews by going back and reading their application and writing samples, looking up the biographies of members of the Selection Panel, and reviewing the Rules of Civil Procedure. Judge Bulsara urged candidates to take advantage of the mock interviews offered by AABANY and sit in on proceedings in court.
We thank our panelists for speaking on the program and sharing insightful advice about the process of becoming a United States Magistrate Judge. Thanks also to Austin D'Souza for serving as an excellent moderator. For more information on AABANY's Judiciary Committee, please see https://www.aabany.org/page/115.