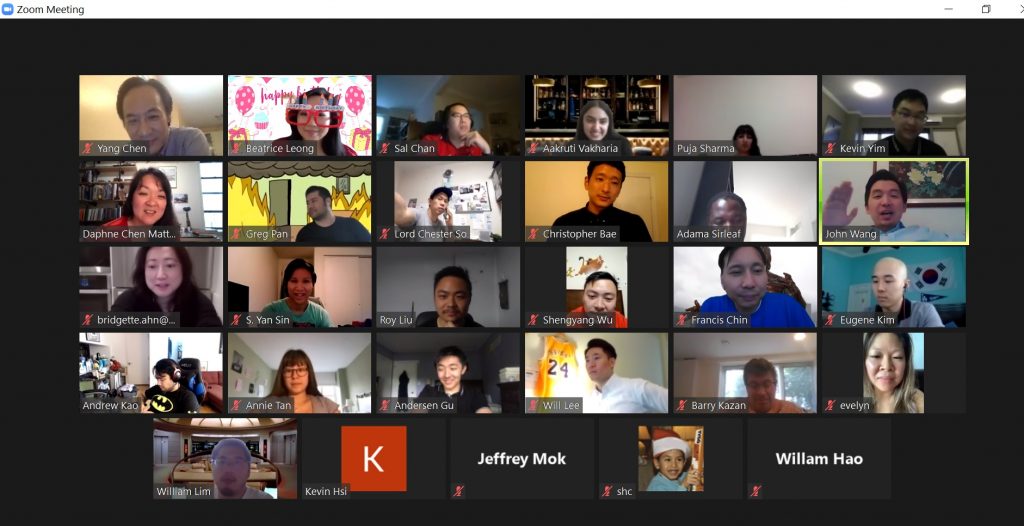 On May 29, 2020, the Membership Committee hosted their weekly Zoom Mixer Membership Mixer, with 29 participants in attendance. In honor of Membership Director Beatrice Leong's birthday, the icebreaker question posed to the participants was: "What was your favorite or most memorable birthday memory or gift?" The overwhelming answer by most participants was "getting drunk on their 21st birthday." Other answers included a one-week alcohol bender, birthday parties in McDonald's with childhood crushes, Tokyo birthdays, birthdays where members took the LSAT and passed the bar exam. Members' favorite gifts included a Voltron toy, a song written in their honor, and a 3D printed toy of the member's likeness.
This mixer featured Trivia Night hosted by Sal Chan. Sal is Chief of Operations at the trial boutique Mukasey Frenchman & Sklaroff. Thank you, Sal! Anyone interested in joining Zoom trivia nights every Thursday can email Sal at  sal.chan@mfsllp.com.
We had enough attendees to form four teams. Three of the teams stayed through two full rounds of quetstions. The winning team was "Taking Back Monday." Congratulations to team members Andrew Kao, Puja Sharma, Kevin Hsi and William Lim. During the game, we encouraged participants to donate to a fund, with the winning team getting to pick which charity or cause they wished to support. Taking Back Mondays kindly agreed to donate to AABANY's Pro Bono Clinic. Thank you, Taking Back Mondays!
The Membership Committee previously hosted Monthly Mixers at bars, ballparks, stadiums, operas, etc., but due to COVID, we moved online to offer members a weekly outlet to share their feelings, see old friends, and make new connections. Mixers start at 6:30pm on Friday and the main event ends at 7:30pm but people have stayed on after 7:30pm for smaller breakout groups.
We are giving away door prizes during some weeks. In order to win, you must be a member and must RSVP on aabany.org to get a raffle number. Non-members can join the Zoom mixer but won't be eligible to win a prize. Mixers are not recorded, and are LIVE, so don't miss out.
This week's mixer will take place on Friday, June 5, at 6:30 pm. Register by June 4 at https://www.aabany.org/events/event_details.asp?legacy=1&id=1366638. We hope to see you there.