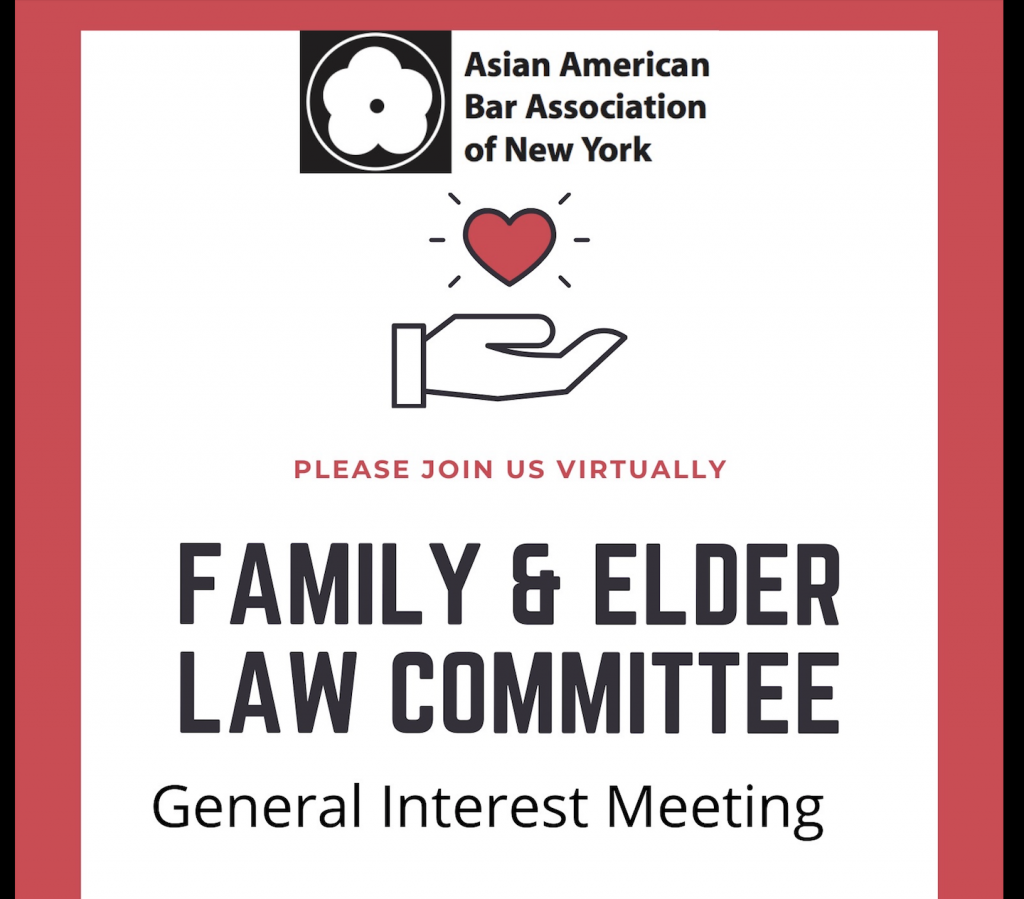 On June 10, AABANY hosted another general interest meeting, this time over Zoom, to discuss the formation of a Family & Elder Law Committee. AABANY members Beatrice Leong, S. Yan Sin, and May Wong, who all practice matrimonial law, said they proposed creating this committee because they noticed a lack of Asian Americans in the field.
Despite AABANY's history of over 30 years as a bar association, there have been no committees dedicated to matrimonial law, family law or elder law. The Family & Elder Law Committee aims to focus on issues pertaining to divorce, custody, child support, domestic violence, guardianship, estate planning, abuse/neglect, pre- and post-nuptial agreements and a host of other areas. As a committee focused on specific areas of law, the group would be able to provide support to the general membership – and even those who may not be AABANY members – by connecting them with lawyers who specialize in these fields and with other resources. The committee would also serve as a way to raise awareness about these areas of law which are more directly related to helping individuals.
During the webinar, Beatrice, Yan and May shared a short presentation detailing the goals and benefits of their proposed committee, as well as giving an overview of what family law and elder law entail. The webinar co-hosts also addressed the new challenges that have surfaced due to COVID-19 and detailed the ways they were adapting to the changes in the legal field.
Also in attendance was Pauline Yeung-Ha, an elder law and estate planning attorney who also supports the formation of this new committee. Elder law focuses on helping older adults with the preservation of wealth during one's lifetime, aiding the elderly in issues related to health care, government benefits, guardianship and more. Estate planning, on the other hand, is centered more around the distribution of assets after one's death. The two fields intersect heavily, Pauline said, requiring both extensive legal knowledge and the skill set of a social worker. With COVID-19, especially because of its tremendous toll on the older population, her work has been even more difficult than normal, filled with lots of urgent situations often regarding healthcare proxies or home attendants.
Following the presentation, the hosts opened up the webinar for a brief Q&A session, where they each explained what drew them to the type of law they practice and why they continue to be so passionate about their field. Although working at separate firms, Beatrice, Yan, and May agreed that being able to guide someone through the most difficult times in their lives — both on a legal and personal level — is what makes their jobs so fulfilling. Bringing knowledge in from a variety of fields, including social work and psychology, has allowed people to entrust them with their most valuable assets: their family and their money.
Pauline shared a similar sentiment, also noting how underserved elder law and estate planning tends to be. She particularly likes the fact that her job allows her to help people, and often requires her to piece together a puzzle from a host of incomplete stories, ultimately aiding older adults financially, while also connecting with and supporting them through a very emotional, sensitive process. The attorney-client bond has been so strong that Pauline still goes out to dimsum with some of her past clients.
To learn more about this committee-in-formation, or to find out how you can get involved with establishing it, please contact Beatrice Leong (beatriceleongsq@gmail.com), S. Yan Sin (ysin@ssrga.com), May Wong (maywong.esq@gmail.com), or Pauline Yeung-Ha (pyeung@gylawny.com).