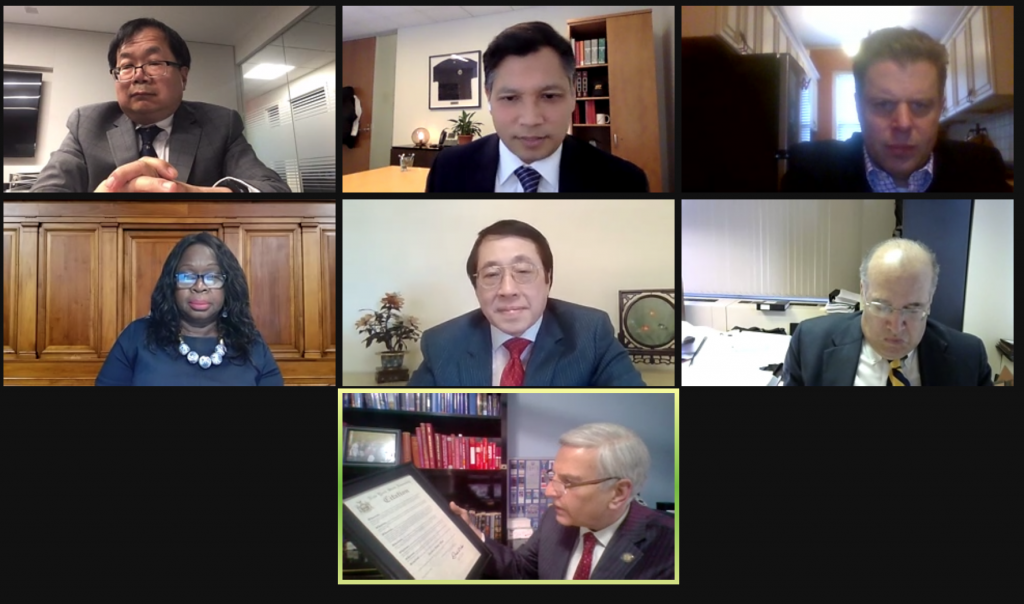 On May 6, the Commercial and Federal Litigation Section of the New York State Bar Association presented the George Bundy Smith Award to the Honorable Peter Tom, former Associate Justice of the Appellate Division, First Judicial Department. The George Bundy Smith Award is presented annually to an attorney of color whose career exemplifies the high standards in legal excellence, community service, and mentoring set by Judge George Bundy Smith through his participation in the Civil Rights Movement and his years of public service serving as a judge.
Vincent Chang had the honor of presenting the award to Justice Tom. In his speech, he described Justice Tom as "our Jackie Robinson." Like Jackie Robinson, Justice Tom had accomplished goals during his career no one in his race had ever accomplished. Throughout his years of service in the court system, he achieved many "firsts"—first Asian American appointed to the Housing Court in New York City; first Asian American elected to the Civil Court in New York City; first Asian American elected to the New York State Supreme Court in New York County; and first Asian American appointed to the Supreme Court, Appellate Division, First Department. Justice Tom was even the first Asian American to win the New York City Golden Gloves Boxing Championship. In his legal career, Justice Tom tore down walls one by one. He employed a 100-year-old "Bawdy House Statute" for the first time in a groundbreaking ruling to evict drug dealers from residential property. In People v. Luis Kevin Rojas, Justice Tom reversed an innocent man's conviction and saved Luis Rojas from a potential lifetime in prison. Justice Tom also gives back immensely to the Asian American community. He is one of the founders of the Asian American Bar Association of New York.
In accepting the George Bundy Smith Award, Justice Tom shared the story of his family's immigration to the United States from China with their hopes of finding the mountains of gold in America. Instead of finding gold mountains, Justice Tom was thrust into New York City where he had to learn English, find his identity, and work hard. He stated, "[The] real treasure of America was not…easy riches but vast golden opportunities in this diverse country where the road of opportunity leads if one works hard and perseveres." In addition, Justice Tom provided attendees with insight into how appeals are handled by the First Department, stressing the importance of strong oral argument. He also emphasized pro bono representation and civility in the legal profession.
Congratulations to Justice Tom on receiving the George Bundy Smith Award! To read AABANY's profile on Justice Tom, click here.