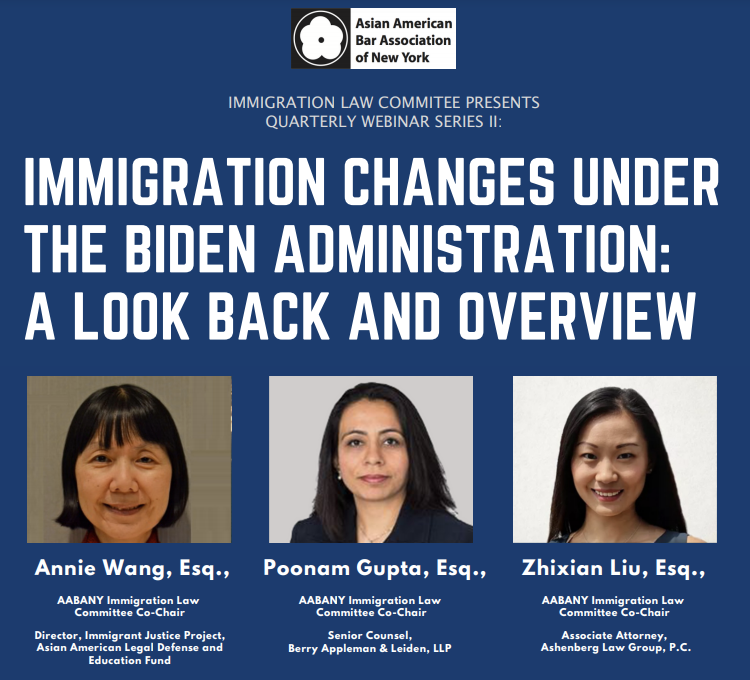 On April 20, Immigration Law Committee Co-Chairs Annie Wang, Poonam Gupta, and Zhixian (Jessie) Liu held a webinar titled "Immigration Changes Under the Biden Administration: A Look Back and Overview." The co-chairs provided updates to the immigration policies under the Biden administration and compared it to the plans President Biden had outlined when he first took office.
In the webinar, the Immigration Law Committee provided updates to the status of the U.S. Citizenship Act of 2021 and the American Dream and Promise Act of 2021 in the U.S. House of Representatives and the U.S. Senate, and discussed how passage of the bills could affect the pathway to citizenship. The co-chairs also covered employment-based immigration changes including the withdrawal of the H-4 EAD (Employment Authorization Document) rule, the repeal of the BAHA (Buy American and Hire American) Executive Order, and the changes to the H-1B Visa Program for fiscal year 2022. Co-Chair Annie Wang discussed the national dialogue surrounding asylum and refugee resettlement, and gave an update on the status of current DACA litigation. The co-chairs concluded the webinar by providing a quick overview of the rescission of the Public Charge Rule.
The Immigration Law Committee plans to continue hosting quarterly webinars to provide the AABANY community with immigration updates under the Biden administration. To learn more about the Immigration Law Committee's upcoming events, please contact the committee co-chairs at https://www.aabany.org/page/129.