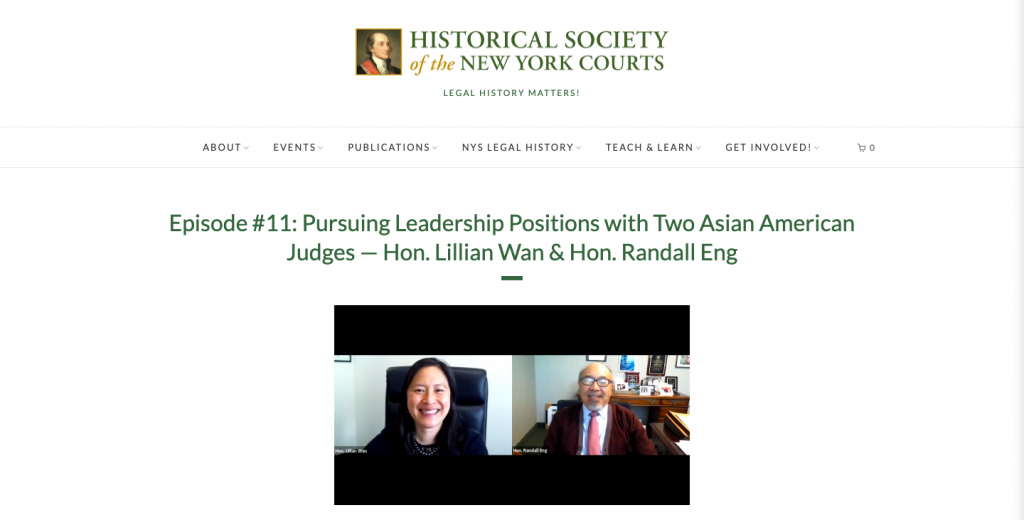 In April, Hon. Randall T. Eng and Hon. Lillian Wan came together to discuss the dearth of Asian American representation among New York's judiciary and public offices. In a podcast episode published by the Historical Society of the New York Courts, they open up about their career paths and the obstacles they faced while pursuing their respective careers. When Judge Eng took up his jurist position in 1983, there were no other Asian American jurists within the city or state of New York. Now, there are 39 sitting Asian American jurists. Though the number of Asian American jurists has increased, progress has been exceedingly slow.
This past May was Asian American and Pacific Islander Heritage Month, so the conversation between Hon. Lillian Wan and Hon. Randall Eng was featured on the Society's home page. Hon. Lillian Wan, President of the Asian American Judges Association of New York, an AABANY member and a member of the Society's Board of Trustees, has been nominated as a candidate for the New York State Supreme Court in Kings County and currently serves as Kings County Supreme Court Civil Term Judge. Throughout their conversation, Judge Wan and Judge Eng discuss how Asian American attorneys today can advocate for Asian American representation in positions of legal leadership, as well as judicial and public offices.
To listen to the podcast go to https://history.nycourts.gov/podcasts/podcast-11/.