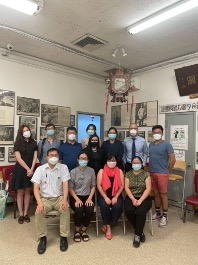 On August 14, AABANY's Pro Bono & Community Service (PBCS) Committee and Government Service and Public Interest (GSPI) Committee hosted a hybrid legal clinic and provided a "Know Your Rights" presentation for residential and commercial tenants on the topic of rent arrears and evictions. The event was held at the Chinese Consolidated Benevolent Association (CCBA) in Manhattan's Chinatown and was co-sponsored by AABANY, CCBA, Asian Americans for Equality (AAFE), and the Chinese Chamber of Commerce of New York (CCCNY).
During the presentation, which was shown on Zoom and screened in-person at CCBA, Rina Gurung, an associate court attorney at the New York State Unified Court System and co-chair of the GSPI Committee; Kensing Ng, a staff attorney at the Legal Aid Society in East Harlem; and Meghan Liu, a Cleary Gottlieb pro bono fellow at Legal Services NYC, discussed different types of cases that are brought in housing court, such as nonpayment, holdover, and housing part cases. They also explained which eviction moratoria are in effect due to the ongoing COVID-19 pandemic and emphasized that these laws can change at any time. This was especially relevant, given the imminent expiration of the COVID-19 Emergency Eviction and Foreclosure Prevention Act on August 31, 2021; the expiration of the CDC's moratorium on October 3, 2021; and the U.S. Supreme Court's August 12, 2021 opinion striking down part of the New York moratorium.
Gurung, Liu, and Ng also provided resources that tenants could contact to file hardship declarations and explained the basics of the Emergency Rental Assistance Program (ERAP), which provides rental arrears, temporary rental assistance, and utility arrears assistance to low- and moderate-income households at risk of experiencing homelessness or housing instability. They also explained that landlords seeking to sue their tenants should hire a lawyer and for those who received a marshal's notice to go to court. In addition, the presenters explained differences in procedures for cases involving commercial tenants and provided resources for both landlords and tenants, phone numbers for free consultations for income-eligible individuals, and a guide to landlord disputes. Bei Yang, a contract attorney at On Call Counsel, interpreted the presentation live into Mandarin Chinese.
Eighteen clients attended the clinic for one-on-one legal consultations with AABANY volunteers, including 12 who had registered beforehand, one virtual caller, and five walk-ins. Topics ranged from housing and matrimonial law to immigration, fraud, medical malpractice, and personal injury. All available client consultation slots were successfully filled.
One client, an older man who only spoke Cantonese, came to the clinic because he had been scammed by a woman who claimed to be interested in pursuing a romantic relationship with him online. She then asked him to send her a significant sum of money, and he did so before realizing that she was a fraud. Such occurrences are not uncommon, especially among elders, and individuals who have been or who know victims of similar types of fraud should not feel ashamed to tell their stories or speak to an attorney. Sharing these stories promotes awareness of these types of scams and helps others avoid them.
While AABANY volunteers were conducting one-on-one consultations, several clients watched the presentation in the CCBA sitting area. One client asked for the PBCS email to see if she could get a recording of the presentation and re-watch it, as she missed a portion of the live presentation. She also was impressed by clips from the Anti-Asian Violence PSA that explained what hate crimes were and how they can be reported, and asked for the link to the YouTube video, even though she spoke no English. After the one-on-one consultations concluded, volunteers debriefed the clinic and got to know each other over a post-clinic meal at Canton Lounge.
The PBCS Committee thanks Rina Gurung, Kensing Ng, and Meghan Liu for lending their expertise in rent arrears, eviction moratoria, and landlord and tenant rights and Bei Yang for providing a live interpretation of the presentation. The Committee would also like to thank Beatrice Leong, Francis Chin, Guiying Ji, Jae Hyung Ryu, Judy (Ming Chu) Lee, Karen Kithan Yau, Kwok Ng, Samantha Sumilang, and Shengyang Wu for providing clients with legal information and resources during one-on-one consultations; Kloe Chiu and Esther Choi for providing language interpretation during one-on-one consultations; Luna Fu and Wai Yip from AAFE for language interpretation and other assistance; Zhixian (Jessie) Liu and Poonam Gupta for acting as standby consultants for immigration-related questions; and Asako Aiba, Karen Lin, Kevin Hsi, Kwok Ng, May Wong, Megan Gao, and Olympia Moy for coordinating and staffing the clinic. AABANY would also like to thank CCBA, CCCNY, and AAFE for co-sponsoring this event. We are also grateful to the staff at Charles B. Wang for providing video resources on mental health and anti-Asian hate during the COVID-19 pandemic.
To learn more about the PBCS Committee and its work, click here and here. The PBCS Committee is tentatively planning to hold its next hybrid legal clinic on Saturday, September 18, 2021 between 12:30 PM – 3:30 PM. For up-to-date details about the clinic and registration information, please click here.