2022-23 NAPABA Leadership Advancement Program
August 2022 through February 2023
Application Deadline: March 30, 2022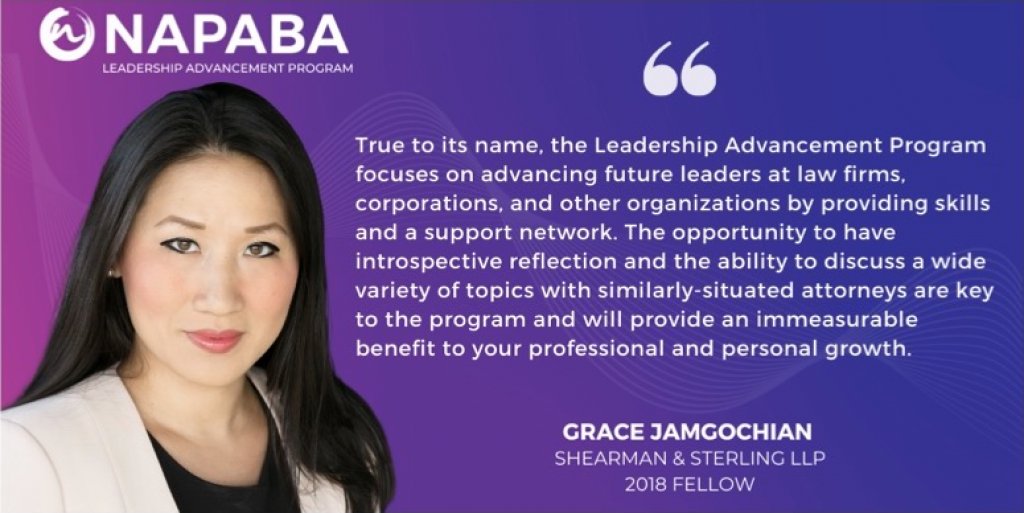 NAPABA is now accepting applications for the 2022-23 Leadership Advancement Program (LAP) for August 2022 to February 2023. LAP is a year-long experiential program, meant to equip mid-career attorneys with a skill set that will transform them into leaders, professionally and personally, while cultivating close-knit friends and resources. Attorneys in the program will:
Assess leadership and communications styles and use exercises to gain better self-awareness
Train to be more effective communicators and listeners
Learn how to set goals and ground their career vision
Become better at anticipating the oppositions faced in challenge
Grow their executive presence
Leave with a cohort of 24 advisors and friends
This cohort of 24 individuals will launch in a virtual environment, with the possibility of concluding with in-person workshops.
Grace Jamgochian, a Partner at Shearman & Sterling, a member of AABANY and Vice Chair of its Women's Committee, and a former participant in the LAP Program described her experience as follows:
"Although I participated in the Leadership Advancement Program almost 5 years ago, I still have constant contact with my LAP community across the nation; we regularly seek advice from each other on all kinds of matters from parenting to random legal musings. The perspective you get from a small (but not too small) group of seasoned attorneys is really incredible!"
You must become a member of NAPABA to take advantage of this exclusive opportunity
If you have any questions or wish to apply, please visit the NAPABA website for more details or contact Maureen Gelwicks, Operations Director.
###
The National Asian Pacific American Bar Association (NAPABA), represents the interests of over 60,000 Asian Pacific American (APA) legal professionals and nearly 90 national, state, and local APA bar associations. NAPABA is a leader in addressing civil rights issues confronting APA communities. Through its national network, NAPABA provides a strong voice for increased diversity of the federal and state judiciaries, advocates for equal opportunity in the workplace, works to eliminate hate crimes and anti-immigrant sentiment, and promotes the professional development of people of all backgrounds in the legal profession.