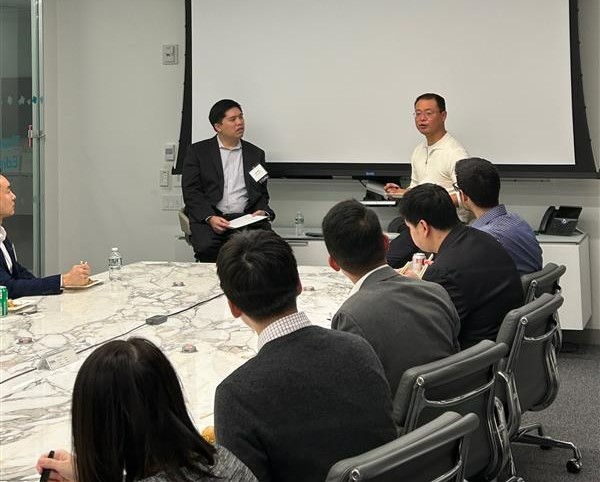 On February 1, 2023, the IP Committee hosted its inaugural "Dumplings & Discussion" fireside chat series, with Andy Yoo, SVP & General Counsel at Savvas Learning Company as the guest.
Over a sumptuous spread of dumplings and other Chinese dishes, Andy shared his insights on intellectual property in the education industry, reflected on his career path, discussed his responsibilities as General Counsel, and offered advice to young attorneys.   Andy also discussed how he leads his team, and his views on the importance of diversity, equity and inclusion (DEI).  The attendees were made up of in-house counsel attorneys in private practice and law students, and represented a wide range of experience levels. 
Andy talked about his start at a prominent law firm and his move in-house to a media company. His next in-house move was to another media company that was also prominent in producing educational materials, and his current company focuses on those products. Andy enjoys the variety of challenging work he does as an in-house counsel and noted that nearly a third of his work involves IP, because the company manages a portfolio of hundreds of trademarks and thousands of copyrighted materials.
Andy has been deeply involved with DEI as an in-house counsel and reflected on changes in DEI over the past three decades. Compared to when he started as an associate to present day, he has observed a shift from the legal profession barely talking about DEI to robust efforts driven by the corporate sector to increase DEI across the board. The change, noted Andy, "is like night and day." Yet, Andy recognizes that much still needs to be done and laments that during times of economic downturn, corporate DEI budgets tend to shrink, leading to cycles of advancement and retreat that make lasting progress hard to maintain.
After the in-depth discussion and lively Q&A that followed, attendees continued to enjoy drinks and food in a networking reception.
Thanks to Jeff Mok, Co-Chair of the IP Committee for moderating an insightful conversation, and to Fish & Richardson for being such gracious hosts. Thanks to Andy Yoo for sharing his time, experiences and knowledge with us.
Look out for the next IP Committee "Dumplings & Discussion" fireside chat. To learn more about the IP Committee, go to https://www.aabany.org/page/145.