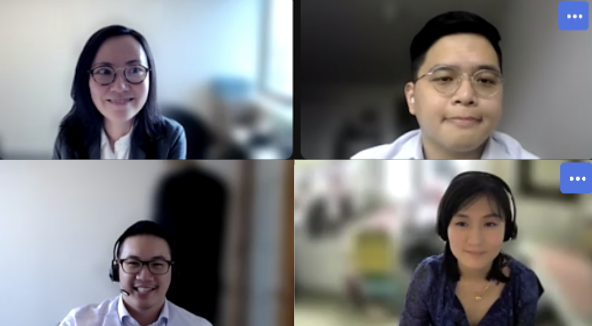 On June 22nd, 2023, AABANY's Student Outreach Committee hosted a Students Meet Firms event, connecting law students with attorneys at Cleary Gottlieb Steen & Hamilton LLP.  The Students Meet Firms event series aims to connect rising second-year law students (2Ls) and other students pursuing law degrees with a range of diverse law firms, providing both insight into the legal profession and valuable networking opportunities. 
The panel, held on Zoom from 7:00- 8:00pm EDT, was moderated by Siqi Li (AABANY Student Leader, Seton Hall Law School '24), and featured associates Chihiro Isozaki, Sharon Wang, Samson Lim, and Long Dang. The panelists gave detailed insight into navigating Cleary's recruitment process, summer associate program, and life at Cleary as a lawyer.
The event kicked off with panelists sharing useful tips on how to succeed in the interview process. In particular, they highlighted the importance of creating a compelling narrative of yourself as an applicant. While intensive research into Cleary and its practice areas are vital, the associates noted how outstanding candidates demonstrated connections between themselves and the firm that went beyond surface superficialities. To best accomplish this, the panelists recommended that interviewees reach out for coffee chats with Cleary attorneys working in the practice areas they are interested in, building both insight into the firm and comfortability with conversations.
The panelists then shared their own experience as summer associates and highlighted Cleary's unique global rotation program. Through the program, summer associates are given the opportunity to spend four weeks in one of Cleary's many overseas offices, including Beijing, Brussels, Cologne, Frankfurt, Hong Kong, London, Milan, Paris, Rome, São Paulo, and Seoul. Cleary also provides many other unique opportunities for professional development, such as their "miniMBA" training program and comprehensive mentorship system.
The associates also discussed the workplace culture at Cleary and how they were drawn to the firm because of its friendly, collaborative, and intellectually stimulating environment. The panelists emphasized that work is equitably distributed at Cleary, through a central staffing system. Many associates were also attracted to Cleary's strong international presence and the opportunity to work with sovereign governments and international institutions. 
Finally, the panelists emphasized Cleary's strong mentorship system, both on a formal and informal level. Panelist Samsom Lim shared how his relationship with his mentor continued months after he finished the summer associate program. Expanding on this point, panelist Sharon Wang discussed the diverse range of opportunities she has encountered in her day-to-day work to connect with more experienced lawyers as an associate at Cleary. 
Ultimately, panelist Chihiro Isozaki emphasized that the interview process is a two-way street, where applicants are also given a glimpse into Cleary and the chance to determine if it is the right fit for them. She gives the advice for future Cleary associates to be open, honest, and vulnerable; they should really get to know people on a deeper level.
Thank you to the Student Outreach Committee and Cleary Gottlieb Steen & Hamilton LLP for organizing this informative program. To learn more about the Student Outreach Committee, click here.
Interested in attending a Students Meet Firms event? Upcoming events include: