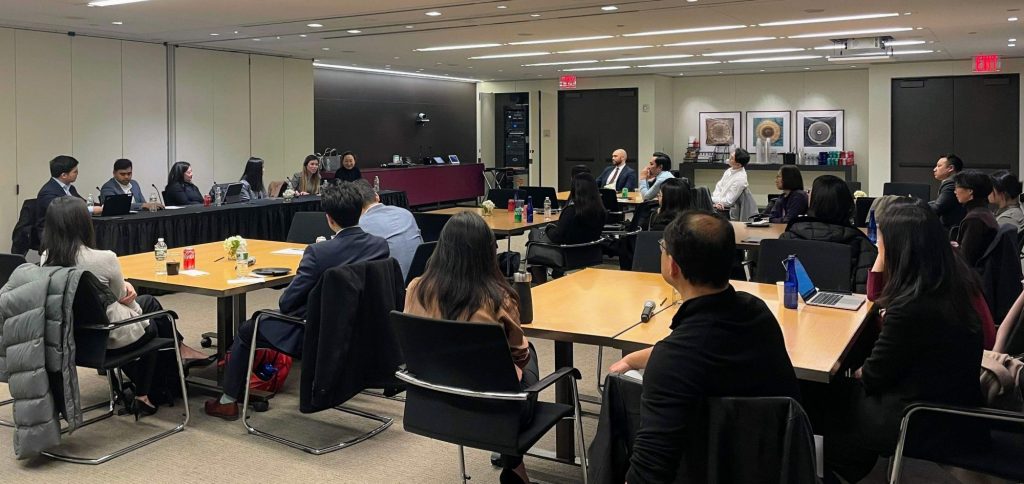 On March 31, 2023, the Student Outreach and Corporate Law Committees presented the panel: "What Do Corporate Lawyers Do?" at Orrick's New York office. Moderators Long Dang (litigation associate at Cleary) and Jay Hawlader (law student at Brooklyn Law School) spoke to corporate attorneys Alice Hsu (Capital Markets partner at Orrick), Chris Min (Finance partner at Orrick), Cherry Liu (M&A/PE associate at Paul, Weiss), and Ashley Wong (M&A/PE and Capital Markets associate at Sidley).
In a relaxed setting with pizza and soft drinks, students listened to Alice and Chris speak about building relationships with clients, managing associates, and how they succeeded in becoming partner at their firm. Cherry and Ashley gave advice on how law students should judiciously select practical law classes, how they can ace the law firm interview process, and how to be resourceful, self-starting junior associates.
The panelists also shared what drew them into their respective fields. Ashley, for example, was inspired by purchasing Teavana tea from a Starbucks menu and was then intrigued by high-level transactions that affected consumers. Chris was drawn into her group because she enjoyed the personalities and the work combination.
Students on Zoom and in person listened closely as Alice described her day in a life as a partner and when Cherry gave advice on interviewing with law firms. The event concluded with Q&A and light mingling among the panelists and students.
Thanks to the Student Outreach Committee and Corporate Law Committee for organizing this helpful and informative program, and thanks to all the speakers for sharing their knowledge and insights.
Join the Student Outreach Committee and Tax Committee for "What Do Tax Lawyers Do?" on April 26. For more details and to register, go here.