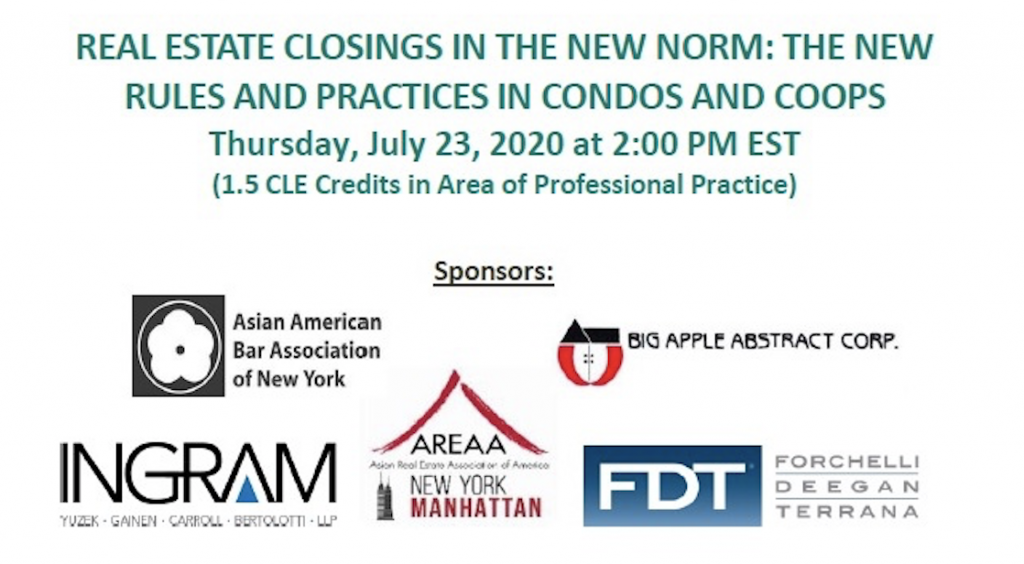 On July 23, AABANY's Real Estate Committee presented a CLE Program on real estate closings in the COVID-19 era. The panel focused on how the real estate market is adapting to COVID-19 through new rules and practices and detailed the current state of property transactions. Speakers included Jason Wang, Licensed Real Estate Salesperson at COMPASS, Wendy Yu, Counsel at Yu Law, and Jane Chen, Associate at Forchelli Deegan Terrana LLP. The program was moderated by Margaret Ling, co-chair of the committee and Senior Counsel at Big Apple Abstract Corporation.
Margaret Ling began the panel with an update on the current New York state real estate legal landscape. This included the 202 executive order mandate by Governor Andrew Cuomo, declaring a state of emergency to permit only essential businesses. As a result, most real estate showings are now virtual and transactions are digital. Open houses are permitted only if social distancing measures are maintained.
Jason Wang spoke on his experience as a real estate salesperson at the inception of the pandemic and shared market observations. Because of at-home quarantine, buyers have begun to realize what they want in a home property and so there is a continued demand for property. Additionally, residents who fled New York City during the pandemic on-set may return in the near future and strengthen the real estate market.
Wendy Yu then outlined client protection concerns during virtual transactions. This includes taking into account that many buyers are now making offers without ever seeing property in person, emphasizing the need to place buyer protection clauses in contracts. Other considerations involve death clauses, in case that one party is no longer capable of continuing the transaction, as well as maintaining a flexible approach, so that either seller or buyer may be granted extra transaction time in case of pandemic-related challenges.
Jane concluded the panel by providing insight into co-op property transactions. Specifically, co-op boards that typically meet on a regular basis are now meeting less frequently, making it difficult for potential buyers to be interviewed for acceptance. Furthermore, because co-op boards are responsible for serving the interests of all building residents, it is important for interested buyers to keep in mind the visitor restrictions that exist in these communities.
Thank you to speakers Jason Wang, Wendy Yu, and Jane Chen for their time and insight, and Margaret Ling for moderating. Those interested in learning more about AABANY's Real Estate Committee can do so here.