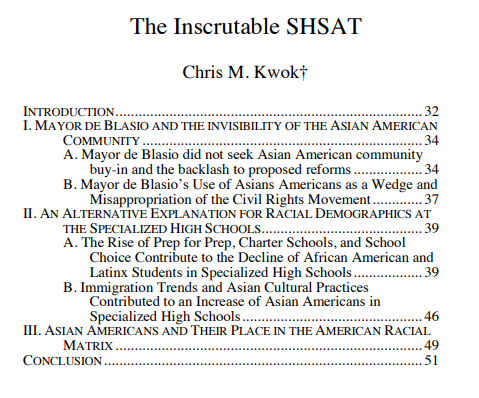 The Asian American Bar Association of New York ("AABANY") congratulates Issues Committee Chair, Asia Practice Committee Co-Chair and Board Director Chris Kwok on his recent law review article about the Specialized High Schools Admissions Test ("SHSAT") in the Berkeley Law Asian American Law Journal. The article, "The Inscrutable SHSAT," can be found in Volume 27, at page 32. Click here to read the full text.
The article begins with a detailed discussion regarding Mayor Bill de Blasio's exclusion of the Asian American community in attempting to eliminate the SHSAT and the ensuing backlash that derailed the proposed plan. The discussion then shifts toward alternative explanations for the racial composition of the specialized high schools and how the rise of Prep for Prep, Charter Schools, and School Choice have contributed to the decline of African American and Latinx students in those schools. Finally, the article concludes with an overall commentary on the current position of Asian Americans within America's "racial matrix" and stresses the need to shift away from antiquated frameworks of social justice toward a more current and nuanced understanding of Asian Americans in politics today.
Aside from his recent publication, Chris has organized numerous panels and discussions regarding Asian American rights in the corporate sphere and beyond. AABANY applauds Chris for his insights on the shifting nature of race relations today and his commitment toward advancing the rights and interests of the Asian American community. Click here to read AABANY's previous profile on Chris.