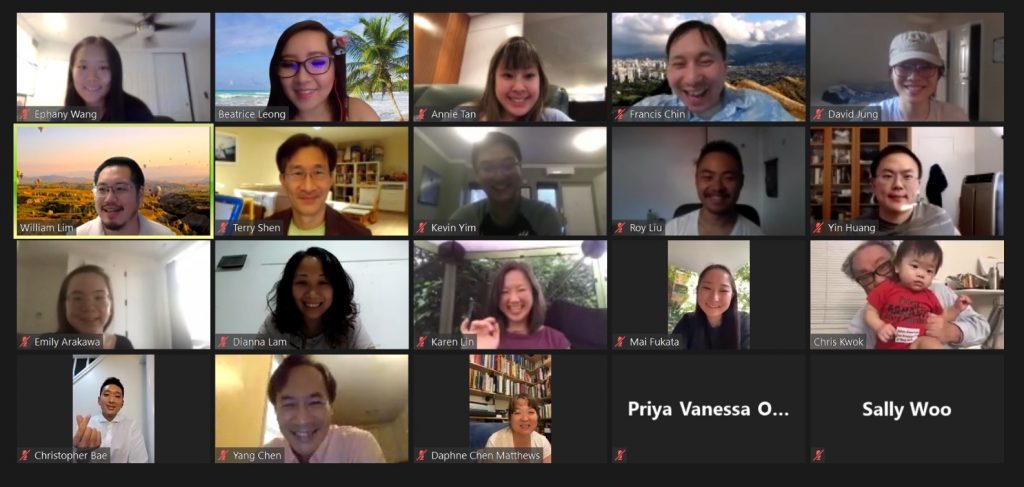 On August 21, the Membership Committee hosted its weekly mixer. At the mixer, AABANY spotlighted our legal interns, current and former, to recognize and thank them for all their hard work on behalf of AABANY. Joining us were current interns Annie Tan, Andersen Gu, and Ephany Wang. Also on the call were past interns David Jung, Emily Arakawa, and Mai Fukata. Each intern introduced themselves and shared what they were most concerned about as they head back to school or work during COVID-19. Those going back to school in the fall worried about the challenges of learning remotely or in hybrid settings. Those taking a gap semester or already working expressed concerns about employment opportunities and prospects when the economy is in shambles. Some also voiced concern about what the world would look like once we emerged from COVID-19.
After the interns spoke, we asked each of the attendees what advice they could offer to them. Our attendees covered the spectrum from current law students to attorneys practicing in various settings, both private and public at different stages of their careers, and the most common advice was to stay persistent and optimistic. Many remarked on the talented and intelligent interns AABANY has been fortunate to have and they were all encouraged to rise to the challenges they would face, and we were uniformly confident that they would do so. We reminded them that they are part of the AABANY family and they should all stay in touch with us and feel free to reach out if they need assistance or guidance in the future.
The Membership Committee previously hosted Monthly Mixers at bars, ballparks, stadiums, operas, etc, but due to COVID, we have moved online to offer members an weekly outlet to share their feelings, see old friends, and make new connections. Mixers start at 6:30pm on Friday and the main event ends at 7:30pm but many often stay on after 7:30pm for smaller breakout groups.
Membership Committee will continue to host weekly Zoom mixers until it is safe to gather together again in person.
We are giving away door prizes in some weeks. In order to win, you must be a member and must RSVP on the aabany.org calendar entry to get a raffle number. Non-members can join the Zoom mixer but won't be eligible to win a prize.
Mixers are not recorded, and are LIVE, so don't miss out.
Please join us for this week's mixer on Friday, August 28, and register by Thursday, at https://www.aabany.org/events/event_details.asp?legacy=1&id=1366650