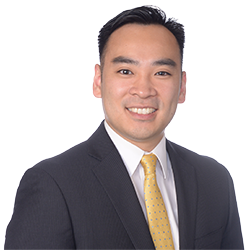 The National Asian Pacific American Bar Association ("NAPABA") will be holding their Annual Convention this December in Washington, D.C. Among those being honored by NAPABA with their 2021 Best Under 40 Award will be William Ng, a shareholder at Littler Mendelson P.C. and the President-Elect of AABANY. Every year NAPABA selects a group of talented young Asian American and Pacific Islander ("AAPI") attorneys who are under the age of 40 from across the United States. Recipients of the award are judged on two factors: first, excellence and professionalism in the field of law and second, a commitment to impacting the AAPI community for the better. Will has demonstrated both throughout his illustrious career.
Will has fulfilled the first criteria of the award by demonstrating excellence in the legal profession in a variety of ways. After graduating from St. John's University School of Law, Will began his career by working for the New York City Law Department's Tort Division where he represented numerous city agencies including the police and fire departments in personal injury and civil rights cases. Will then transferred to the Labor and Employment Law Division, which provided him invaluable federal court litigation experience defending the City of New York, one of the largest public employers in the nation. In his current practice at Littler, Will focuses on defending private and public employers in employment litigation matters as well as wage and hour class actions. In addition to his litigation practice, Will regularly counsels employers on their workplace policies and practices for compliance with federal, state and local employment laws.
Will has fulfilled the second criteria of the award through his work in AABANY as well as working to help AAPI-owned companies in the hospitality, financial services, health care, retail, real estate, and transportation industries at Littler. Furthermore, Will has continued to drive AABANY's mission and has held numerous leadership positions for the past 10 years within AABANY including founding the Labor and Employment Law Committee and serving as Co-Chair of the Young Lawyers, Government and Public Sector (now Government Service and Public Interest), and Student Outreach Committees.
Will's drive for professional excellence as well as support of meaningful participation by the AAPI community stems from his parents who owned a local business. As a native New Yorker, Will has been around local business owners throughout his life. Will saw the hardships that minority-owned businesses faced and believed that the best way he could contribute to the AAPI community was to give back through his work with AABANY and other nonprofit organizations. He is proud to represent a large number of AAPI local businesses as part of his regular practice. Most recently Will, as a panel member of AABANY's Legal Referral and Information Service, has defended Chinatown businesses that have been sued under the Americans with Disabilities Act (ADA). These lawsuits have targeted landlords and small business owners in Chinatown and have the potential to shut down these local businesses. Will is committed to helping these merchants and property owners defend against these ADA lawsuits while also providing advice on how to comply with various laws and regulations.
When asked what advice he has for aspiring lawyers, Will responded that they should focus on the potential areas of law that might fit their interests and strengths but they should also take opportunities to meet people and learn about their work in industries and fields "that might not be in [their] comfort zone." Will also highly recommends getting involved in organizations such as AABANY which he describes as an "umbrella group that is home to so many different people from all walks of life." Will believes that being part of an organization like AABANY teaches you "how to interact with different people at different stages of their career."
The BU40 Award will be presented on December 11 during the Gala Dinner at the NAPABA Convention. Please join AABANY in congratulating Will on this well-deserved honor and recognition.