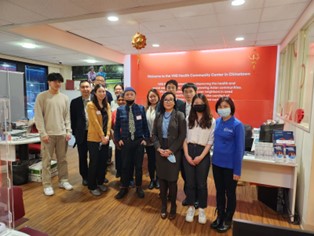 On December 3, 2022, AABANY's Pro Bono & Community Service (PBCS) Committee partnered with the VNS Health staff to hold a pro bono clinic in VNS Health's Manhattan community center from 12:00 PM to 3:30 PM.
Overall, we met with 11 clients who had questions about topics such as immigration, housing, and divorce. With help from our many clinic attorneys and volunteers, AABANY's PBCS attorneys were able to connect clients with AABANY's Legal Referral and Information Service, a program that connects prospective clients from the Asian American and Pacific Islander community with qualified lawyers who are both linguistically and culturally competent.
AABANY's PBCS intern Connor Li spoke about his experiences at Saturday's clinic with great reverence for the work PBCS is able to do through these clinics. He said, "It's always a pleasure to help out at the clinic. Whether it's meeting members of the community or listening to experienced legal professionals, I always feel like I'm learning something at every point. And with the help of the amazing VNS staff, clients with urgent needs for legal advice regarding housing, immigration, and familial issues were checked in and assigned to attorneys with great expediency. We were even able to provide Cantonese and Mandarin interpreters at nearly every client meeting, though we could definitely have used the assistance of more Cantonese interpreters. I would definitely encourage more AABANY members or willing individuals from the general public who know Cantonese to come to these clinics. Your help would be appreciated!"
As with every clinic, free lunch was provided for all attorney and non-attorney volunteers by PBCS. We thank all 11 of our volunteers for coming to provide their invaluable assistance! As always, if you have any questions about upcoming clinics, please contact us at probono@aabany.org. Thanks again for attending, and happy holidays!
| | |
| --- | --- |
| Volunteer Attorneys | Interpreters & Observers |
| Beatrice Leong | Alexander Hwang |
| Francis Chin | Connor Li |
| Grace Pyun | Xiaoli Qin |
| Jackson Chin | Yuichi Hayashi |
| Jayashree Mitra | Yuting Xie |
| May Wong | |
Please make plans to join us as a volunteer at the next Manhattan Pro Bono Clinic on January 14, or please help us spread the word. More details here.