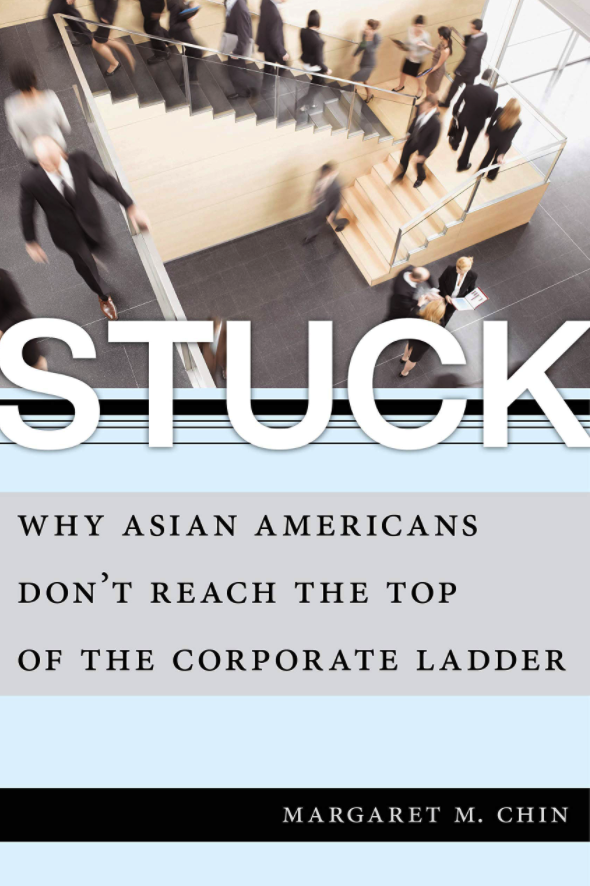 On August 4, 2020, the Asian American Bar Association of New York (AABANY) hosted a book talk on CUNY Professor Margaret Chin's new book, Stuck – Why Asian Americans Don't Reach the Top of the Corporate Ladder. Moderated by Chris Kwok, AABANY Board Director and Chair of AABANY's Issues Committee, the virtual webinar received over 300 registrations from legal and non-legal professionals. Conversation centered around the book's subject — invisible challenges Asian Americans face when it comes to upward corporate mobility.
Professor Margaret Chin began the panel by articulating the difficulty that Asian American professionals face in moving from mid-level management to the C-suites. Chin has discovered two critical factors that explain why. The first is that Asian Americans are hidden from the research. Only in the past five years has research been done on the corporate mobility challenges facing the Asian American professionals, demonstrating not only the invisibility of Asian Americans in racial discussions but a lack of awareness of the "bamboo ceiling." The second is trust. Through her interviews with corporate executives, Chin discerned trust as a leading factor in who is and who isn't promoted. Trust, however, also opens the door for implicit bias. Oftentimes, those who are seen as part of the "in-group" or white are seen as more trustworthy, leaving racial minorities at a disadvantage.
A Q&A session followed the talk, during which Chris, as moderator, posed questions sent via chat to Professor Chin. One audience member asked Professor Chin what inspired her to write this book. Her answer recounted a class reunion where she realized that while many Asian Americans are admitted to Ivy League and top tier universities, there was no research on their career paths post-education. This reveals the false assumption that once an Asian American achieves an elite education, their career is set. Another question asked Professor Chin for solutions to the lack of upward mobility faced by Asian professionals. To this, she discussed how through her interviews with Asian executives, she discovered the importance of early career resources such as college career offices, formal corporate programs, and other similar programs. These have proven to be particularly helpful to non-white professionals who often do not have strong networks or resources at their disposal. Nonetheless, these are not the only solutions, leading Professor Chin to reiterate the need for more research on the "bamboo ceiling" in order to drive change.
Thank you to Professor Margaret Chin for her time and insight and Chris Kwok for moderating. Congratulations to Professor Chin on her book, which was released on August 11. We encourage anyone interested in this hot topic to purchase the book, which is available here. For those looking to continue this important discussion, please email Chris Kwok at chrismkwok@gmail.com to participate in his book club which will gather together readers of the book for further conversations about the book's findings and conclusions.