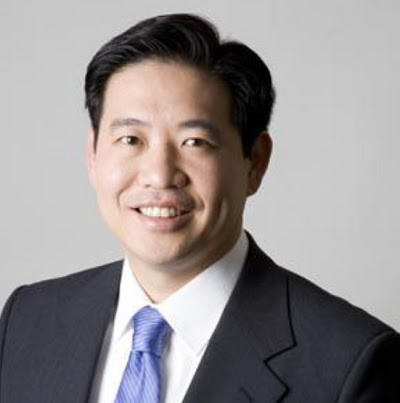 Former AABANY Board Member, Kevin D. Kim, is currently volunteering as the Campaign Finance Chair for NYC Comptroller Scott Stringer's Campaign for Mayor of NYC. Kevin's experience in serving on nonprofit boards is extensive – today, he serves on the Board of Trustees for the City University of New York (CUNY) and was elected this fall to the national Board of Directors for the Stanford Asian Pacific American Alumni Club (SAPAAC). His past board service includes the American Red Cross in Queens, Friends of Thirteen (public media provider featuring PBS series), Korean American Community Foundation (KACF), Korean American Association of Greater New York (KAAGNY). In recognition for his tireless community service work, the National Ethnic Coalition of Organizations (NECO) awarded Kevin with an Ellis Island Medal of Honor in 2015 and in 2020, Columbia Law School's APALSA presented Kevin with its Hong Yen Chang Award for inspiring civic engagement.
Kevin's parents and sister moved from Korea to Sunnyside, Queens (and later Bayside, Queens) when he was five years old. Together, along with Kevin's grandmother, they lived in a one-bedroom apartment for the first seven years in this country. Kevin's mother was an artificial flower designer and his father, with his law degree from Seoul University, went door-to-door in the garment district to sell those flowers. Like many immigrant children, Kevin recognized early on the tremendous sacrifices his parents made so that their children could seek a better life in the greatest country in the world.
Growing up in Sunnyside and Bayside, there were not many Asian Americans living in those neighborhoods at the time. While an overwhelming majority of New Yorkers welcomed the influx of Asian Americans into their communities, one could not help but observe that others perceived Asian Americans (and other immigrant groups) as perpetual outsiders. At the same time, he relished his experience growing up in New York City—home to diverse communities that share more similarities than differences. Realizing the importance of amplifying the voices of marginalized groups, Kevin believes that through active organizing and mobilizing, underrepresented groups can have their voices heard in a society that champions active civic engagement. "Asian Americans comprise 16 percent of the New York City population and yet we get allocated less than 0.16 percent of the social service dollars. Without taking tangible action to vote in every LOCAL primary and general election, and organizing to contribute to political campaigns on both sides of the aisle, this fact will not change," Kevin stated.
After graduating from Stanford University and Columbia Law School, where he was a Harlan Fiske Stone Scholar and a Senior Editor of the Columbia Law Review, Kevin began his legal career as a law clerk for then-U.S. District Court Judge Denny Chin for the Southern District of New York. He then worked as an Associate at Davis Polk & Wardwell where he practiced corporate law.
Realizing the lack of representation of Asian Americans in politics amid their increased presence in New York, Kevin decided to transition into the government sector. For four years, Kevin served as deputy director of community affairs for former Congressman Gary Ackerman (D-NY-05), who Kevin looked up to as a compassionate mentor. Kevin's time at the Congressman's office allowed him to appreciate the importance of providing excellent constituent services and motivated him to consider running for office himself.
In 2009, Kevin became the first Korean American to win a New York City primary when he became the Democratic nominee for New York City Council for District 19. While Kevin made remarkable strides in his historic nomination, he still encountered troubling racism. He recounts an episode, while campaigning at the Bayside LIRR train station with Congressman Ackerman, when a self-identifying Italian-American woman confronted Kevin about the "invasion" of Asian Americans into downtown Flushing, Queens. She rationalized that she could not vote for an Asian American candidate because Asian Americans had ruined downtown Flushing. In response, Kevin calmly asked if it would be fair for others to blame her for the behaviors of anyone else in her self-identified ethnic group, a question which prompted her to realize the hypocrisy of her statements (though she still fumed she was not voting for Kevin).
In his six months of campaigning, Kevin, the first Asian American candidate in District 19, had several such eye-opening incidents. More importantly, he stresses that those confrontations should not deter others from running for office. Reflecting on his own campaign experience and time serving as Senior Advisor to former presidential candidate Andrew Yang (who Kevin first met as a 1L at Columbia Law School), Kevin encourages every Asian American at some point in their lives to run for public office. Kevin said that during the course of a campaign, "You will encounter some of the most difficult people you have ever met, but I guarantee that you will also meet some of the most selfless, compassionate, and hopeful people too. The latter give you real hope that the world is still made up of decent people, even those who may not share the same political views as you."
Besides his work in community mobilization and the legal field, Kevin also devoted his expertise to serving the people of New York in various capacities. From 2014-2016, Kevin was the Commissioner of the New York State Liquor Authority, becoming the first Asian American appointed to this position. In June of 2017, Governor Andrew Cuomo appointed Kevin as a Trustee of the City University of New York (CUNY), making him only the third Asian American and the first Korean American to serve on the CUNY Board of Trustees. In that position, he chairs the Audit Committee and is a member of the Subcommittee on Investments.
Today, Kevin is helping to elect Scott Stringer for NYC Mayor in the upcoming 2021 June primary election. "I decided to accept this important role because Scott has a proven track record of being an exceptional leader as an assemblymember representing the Upper West Side, Manhattan Borough President, and New York City Comptroller," said Kevin. "As we work together as a city to recover from the COVID-19 imposed fiscal crisis, there is no one in this city who understands the finances of the City better than Scott." Kevin also touted Scott's second-to-none record on hiring minority and women leaders in his administration. For example, as NYC Comptroller, Stringer hired the first-ever Chief Diversity Officer for New York City. Moreover, Scott's First Deputy Comptroller and Chief of Staff are also both women. Kevin particularly appreciates Stringer's commitment that his senior administration will reflect the diversity of the City, including Asian Americans.
As the Campaign Finance Chair, Kevin serves alongside the Campaign Finance Director and the Deputy Campaign Finance Director to oversee the campaign's fundraising strategy, which is strongly influenced by New York City's unparalleled campaign finance matching program. Because New York City matches 8-to-1 for any contribution up to $250 from a resident, many of the campaigns have shifted their focus from the high-dollar donors to grassroots donors. Effectively, the matching program allows the average New Yorker to amplify their voice in upcoming municipal races. For any campaign to successfully reach the $7.6M spending cap, for example, it needs to persuade thousands of supporters to give to that campaign. Kevin shares Scott Stringer's conviction that elected officials need to take an active role in going into the communities, meeting people where they are, and listening to their concerns.
Throughout his career, Kevin has been slowly breaking the bamboo ceiling one step at a time, blazing the trail for others in the Asian American community. He understands the importance of ensuring that Asian Americans have a "seat at the HEAD table." Kevin especially encourages young people to seek out mentors. "Just delivering outstanding performance at work is not enough," Kevin advises. "You need to nurture genuine personal relationships early on not just with those senior to you, but also with peers and those junior to you." He has seen many instances where classmates and others have benefited greatly professionally from personal relationships they had developed with their respective junior colleagues.
Going forward, Kevin hopes that more Asian Americans get involved and understand the importance of voting in every local primary and general election. Historically, only about 11-13% of registered Democrats vote in the NYC Mayoral primary, which in many cases (due to the 8-1 Democrat to Republican voter registration advantage), ends up deciding who ultimately gets elected to run the greatest city in the world. He encourages every AABANY member to get involved, and stay involved, in political campaigns on ALL sides. Without increased political participation levels from Asian Americans, we may in our own way be contributing to the "perpetual outsider" perception shared by some of our fellow New Yorkers.
For more information on Scott Stringer's campaign, including how you can get involved, visit https://stringerformayor.com/.
This member profile has been published for informational purposes only and does not constitute and should not be construed as a campaign endorsement.