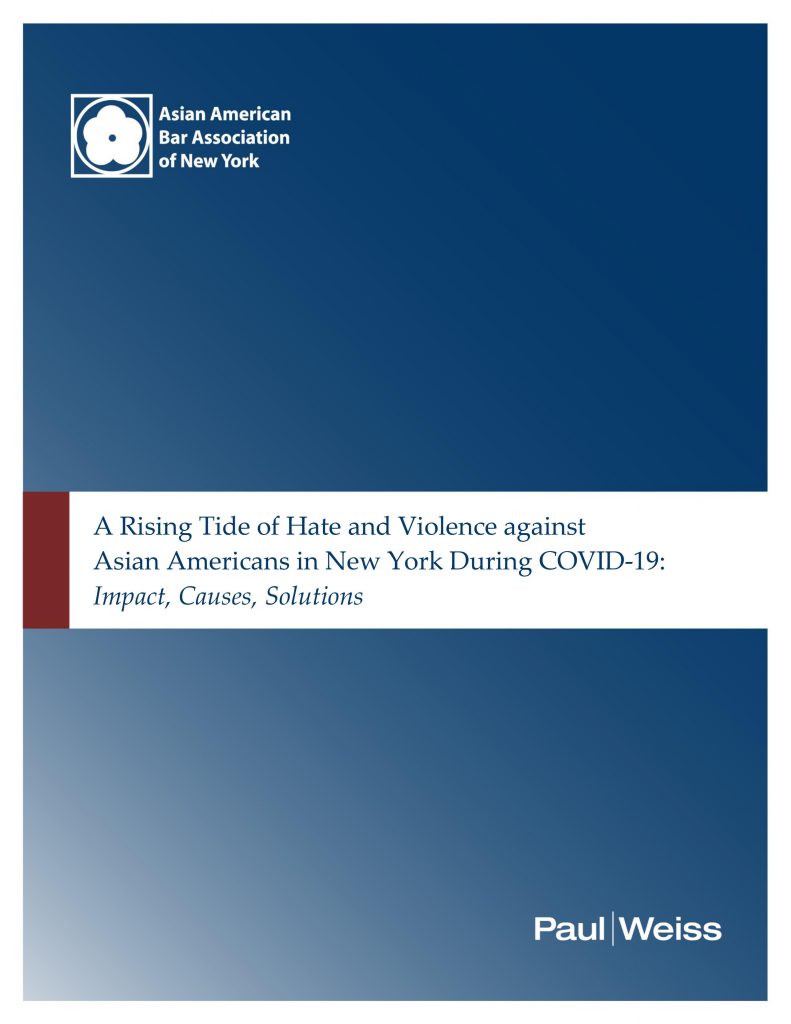 On February 11, AABANY held a press conference to discuss the release of its report co-authored with Paul, Weiss, A Rising Tide of Hate and Violence against Asian Americans in New York During COVID-19: Impact, Causes, Solutions. Since the report's release, news media across the country and around the world have summarized and cited its findings.
Here are some news stories that discuss the report:
"Study Shows Rise of Hate Crimes, Violence Against Asian Americans During the Pandemic" By Zijia Eleanor Song and Jennifer Vázquez, February 11, 2021, NBC New York, https://www.nbcnewyork.com/news/local/crime-and-courts/study-shows-rise-of-hate-crimes-violence-against-asian-americans-in-nyc-during-covid/2883215/
"지난해 뉴욕 아시안 대상 혐오·폭력 사건 급증" By Shim Jongmin, February 12, 2021, The Korea Daily, http://www.koreadaily.com/news/read.asp?art_id=9086440
"Greater Asian-American representation in leadership ranks needed to stem hate crimes in the US, says report" By Mark Magnier and Owen Churchill, February 12, 2021, South China Morning Post, https://www.scmp.com/news/china/article/3121518/greater-asian-american-representation-leadership-ranks-needed-stem-hate
"歧視亞裔 紐約市全美第2多 亞裔律師協會籲政府採取行動" By 顏潔恩, February 13, 2021, World Journal, https://www.worldjournal.com/wj/story/121381/5249694
"【武漢肺炎】紐約巿針對亞裔仇恨罪案大增7倍 分析指受害人不願報案問題被低估" February 13, 2021, Apple Daily, https://tw.appledaily.com/international/20210213/SRL5UCFZUZBJXAEQOKN42SY6I4/
"Amid COVID-19 Pandemic, Anti-Asian Violence Spikes Across the U.S." February 15, 2021, NPR The Takeaway, https://www.wnycstudios.org/podcasts/takeaway/segments/amid-covid-19-pandemic-anti-asian-violence-spikes-across-us
"NY Bar Group Tackles Pandemic-Fueled Anti-Asian Crimes" By Marco Poggio, February 16, 2021, Law360, https://www.law360.com/pulse/articles/1354591 (subscription required)
Here are some news stories about recent incidents of anti-Asian violence, where they mention AABANY's report:
"Anti-Asian Hate Crime Surge Fuels Demands for Systemic and Sensitive Responses" By Christine Chung, February 11, 2021, The City, https://www.thecity.nyc/2021/2/11/22279407/anti-asian-hate-crime-surge-fuels-demands-for-systemic-and-sensitive-responses
"Remember, Racism Isn't Just Black And White. Anti Asian Racism Is On the Rise in the Pandemic Era" By Eric Hinton, February 11, 2021, NBC 5 Dallas Fort-Worth, https://www.nbcdfw.com/lx/remember-racism-isnt-just-black-and-white-anti-asian-racism-is-on-the-rise-in-the-pandemic-era/2549631/
"VP Harris responds to surge in violent attacks against Asian Americans" By Hannah Miao, February 12, 2021, CNBC, https://www.cnbc.com/2021/02/12/vp-harris-responds-to-surge-in-violent-attacks-against-asian-americans.html
"38 Ways to Donate in Support of Asian Communities" By The Editors, February 12, 2021, New York Magazine (The Strategist), https://nymag.com/strategist/article/where-to-donate-to-help-asian-communities-2021.html
"大门涂粪诅咒!华人幼儿园遭种族仇恨攻击!暴力升级,全美亚裔吁政府采取行动!" By 新西兰中文先驱网, February 15, 2021, Chinese Herald, https://www.chineseherald.co.nz/news/education/racial-hate/
"Hundreds of volunteers are escorting elderly Asian Americans to keep them safe" By Austa Somvichian-Clausen, February 16, 2021, The Hill Changing America, https://thehill.com/changing-america/respect/equality/539083-attacks-on-elderly-asian-americans-cause-advocates-to-stand
The report has also made the news on WNYC-FM and MSNBC. If you have come across a news report or article about our report that is not listed above, please let us know at main@aabany.org.
More public awareness about our report and the rise in anti-Asian violence is needed. Please share our report widely. If you have ideas or thoughts about how we can combat anti-Asian violence, please share them with us at main@aabany.org.