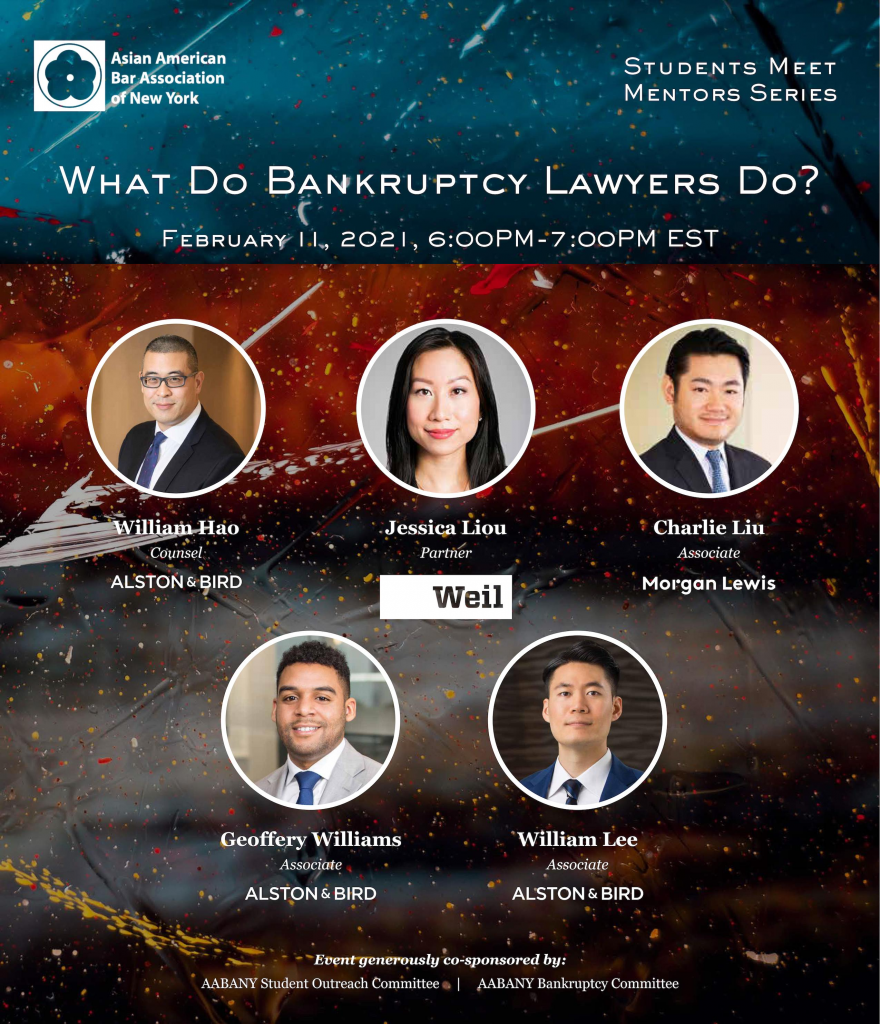 The Student Outreach and Bankruptcy Committees co-hosted a panel titled "What Do Bankruptcy Lawyers Do?" on February 11, 2021 as part of the SOC's Students Meet Mentors series. William Lee, Associate at Alston & Bird, moderated the panel and speakers included William Hao, Counsel at Alston & Bird; Jessica Liou, Partner at Weil; Charlie Liu, Associate at Morgan Lewis; and Geoffrey Williams, Associate at Alston & Bird. The panel provided law student attendees an opportunity to learn about the bankruptcy and restructuring practice area and what being a bankruptcy attorney entails.
William Lee began the event by asking panelists to give an introduction of what bankruptcy and restructuring is. Panelists described bankruptcy as a tool companies are given to reorganize themselves and remove liability pre-bankruptcy. Restructuring encompasses a wide spectrum of processes available to companies, such as filing for court protection, financial restructuring, and operational restructuring. William Hao summarized chapters 7, 11, and 13, the three most common processes used by bankruptcy lawyers.
Next, panelists were asked to describe their experiences working as a bankruptcy and/or restructuring lawyer. Jessica Liou stated that bankruptcy and restructuring is flexible and described it as a hybrid between litigation and transactional work. Some lawyers work in the bankruptcy-litigation niche, while others take the transactional route. When asked what type of student would fit the mold of a bankruptcy lawyer, panelists answered that it would be someone who is interested in a variety of things. Not only can a bankruptcy case be quick-paced, but a bankruptcy lawyer also gets to work with different groups in the firm, such as the tax group, executive compensation group, or litigation group. No two bankruptcy cases are the same, so a bankruptcy lawyer must be willing to do and understand many different things. Jessica Liou also shared how it is extremely rewarding to be a restructuring lawyer as she helps save jobs and helps companies get a second chance.
The panel concluded with tips and recommendations to students who may be interested in getting involved in the bankruptcy and restructuring practice area. Panelists suggested that students should look for opportunities to get exposure to bankruptcy. These include trying an internship or bankruptcy judicial clerkship, taking a bankruptcy course, talking to bankruptcy lawyers, or participating in the Duberstein Moot Court competition.
Thank you to the Student Outreach Committee and the Commercial Bankruptcy and Restructuring Committee for organizing this informative panel. And thank you to William Lee for moderating and to William Hao, Jessica Liou, Charlie Liu, and Geoffrey Williams for volunteering their time and sharing their experiences. To learn more about the Commercial Bankruptcy and Restructuring Committee, go to https://www.aabany.org/page/353. To learn more about the Student Outreach Committee, go to https://www.aabany.org/page/121.