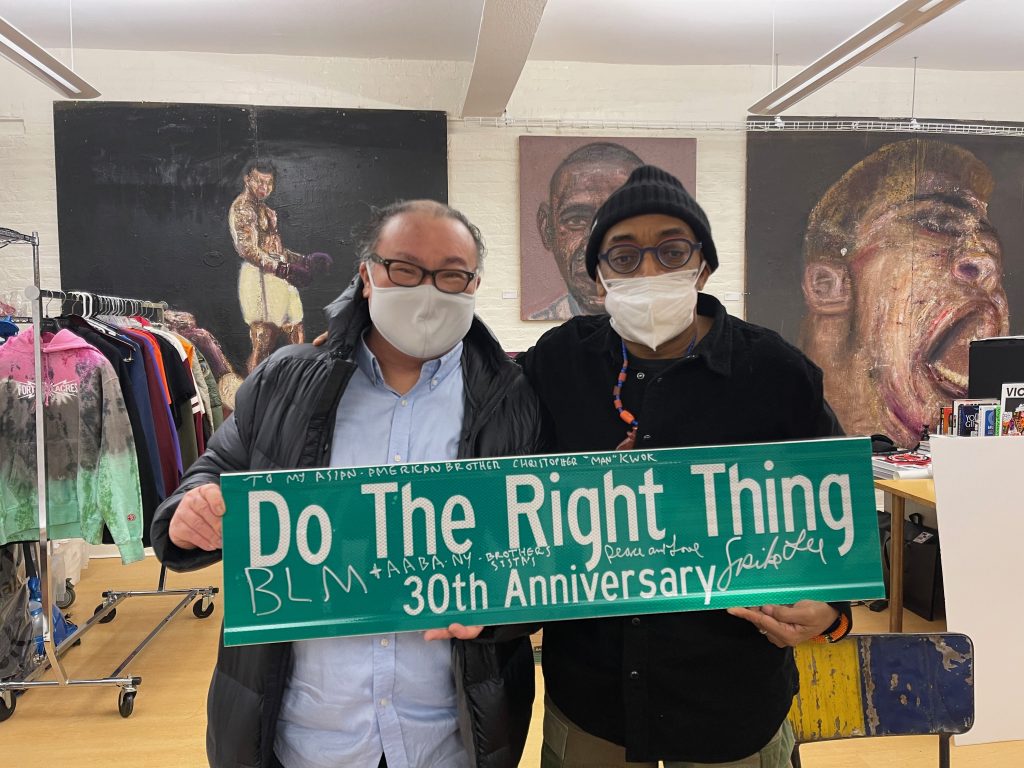 On March 3rd, 2021, AABANY Board Director, Asia Practice Committee Co-Chair, and Issues Committee Chair Chris Kwok was invited to visit Spike Lee at his production site in Fort Greene, Brooklyn. Known for his movie Do The Right Thing (1989), Director Spike Lee is in the process of filming an eight hour documentary to capture New York's resiliency from 9/11 to Covid-19. For the upcoming documentary, Spike Lee interviewed over 200 people and wanted to interview Chris to speak about the Asian American community in New York.
For Chris, Spike Lee has been a part of his life since high school. Do The Right Thing was Spike Lee's magnum opus—the movie illustrated race relations between Italians, Blacks, and Asians in New York. In one iconic scene, a riot breaks out and as the Blacks move on to destroy the Korean bakery after burning down the Italian pizzeria, the owner of the bakery tells them, "You, me, same." The Koreans and Blacks are on the same side and as an assertive African American filmmaker about racial justice, Spike Lee understood that at the time. Through his many projects, Spike Lee has recognized the Asian American community and sees Asian Americans as part of the fabric of New York. That stood out to Chris and his friends in high school.
Spike Lee is iconic but also very personal. "He is including us and we should know more about African Americans and their culture. They have always been inclusive to us, and we should know their path in history," said Chris. "BLM and fighting anti-Asian violence is the same fight. You don't have to choose one over the other because it's the manifestation of structural racism and the effort to dismantle it." Chris' comments reflect the message of Do The Right Thing. Asian Americans and African Americans need to be united and Spike Lee highlights that by writing "BLM + AABANY Brothers and Sista's" in an autographed Do The Right Thing sign he presented to Chris at the interview (see image above).
Spike Lee's new documentary "NYC Epicenters 9/11→ 2021½" is scheduled to be released later this year on HBO and will be available to stream on HBO Max.