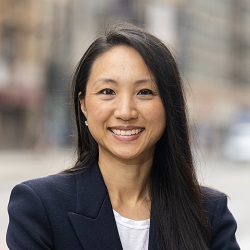 Every year, the National Asian Pacific American Bar Association ("NAPABA") presents its Best Under 40 Awards to honor exceptional Asian American Pacific Islanders ("AAPI") attorneys under the age of 40 from across the country who have excelled in their respective fields and have demonstrated a strong commitment to the AAPI community. Among those being recognized for this year's award is Grace Fu, General Counsel of KAYAK/OpenTable, and a Co-Chair of AABANY's In-House Counsel Committee. Grace has achieved much success as a senior executive and in-house leader in various companies such as Barneys New York, Tiger Management, and KAYAK/OpenTable.
Grace has also demonstrated an exemplary commitment to the AAPI community. At Skadden, she was a co-lead of the Asian American Affinity Group Steering Committee, and was committed to increasing awareness of the Asian American experience at Skadden and within the legal profession. Additionally, as Co-chair of the In-House Counsel Committee at AABANY, Grace worked hard to recruit new members to the committee and to AABANY. She also currently serves as the UVA School of Law's Dean's Alumnae Council and the Alumni Advisory Council, where she has worked on DE&I initiatives, including AAPI recruiting.
Grace personally chose to become more deeply involved with AABANY because she wanted to gain new perspectives and be part of a community of people who have a collective interest in furthering the AAPI legal community. She is thankful for her experiences with AABANY, where she has had the opportunity to meet many talented lawyers and individuals who are passionate about the AAPI legal community. Grace also emphasizes the importance of engaging with organizations that also promote diversity beyond AAPI diversity, because she believes that diversity encompasses much more than simply race or ethnicity.
When asked to give advice to students and aspiring lawyers, Grace emphasizes the importance of building strong relationships and networking with other professionals. Grace also believes that doing excellent work and thus building a solid reputation for oneself is a must. In terms of job searching advice, Grace encourages those still exploring careers to consider their strengths and interests while being open-minded about opportunities that present themselves.
When asked what being nominated for the Best Under 40 Award means to her, Grace stated that she is truly flattered and surprised to have been recognized given that there are so many other outstanding potential candidates. She feels very honored to be able to represent the AAPI community because it is a community filled with so many accomplished professionals, and she is extraordinarily grateful for being awarded this honor.
NAPABA's National Convention takes place in Washington, D.C., this year, and Grace will be honored at a reception for the Best Under 40 honorees on the evening of December 9th, 2021 and she will be presented the award at the Gala Dinner on Saturday night, along with the other BU40 awardees. Please join AABANY in congratulating Grace on this well-deserved recognition and honor.